In Sanskrit, buddha means "awakened one," and that's how I felt after tasting the Buddha Gouda burger at the Tropicana Bar and Grill.
Not that I had achieved enlightenment or anything – it was just that my taste buds had been jolted into a state of hyper-alertness.
This tender burger's topped with sweet sauteed onions, smoky bacon and gouda cheese, plus a creamy sauce that's amped up with a dash (or five) of Sriracha, a hot chili condiment. Sweet, smoky, and sassy, this burger is one of the most popular items on the menu here.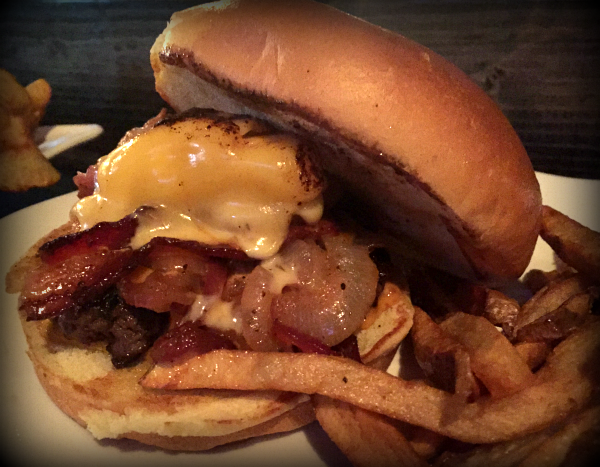 I'd describe the menu at the Tropicana as pub food with a twist. Take the Munchies (appetizers), for instance. You can choose from traditional fare like spinach artichoke dip, onion rings, or deep-fried mushrooms, or you can venture out and try the Killer Bill's Fried Dills (pickle chips served with ranch dressing) or the Philly Rolls.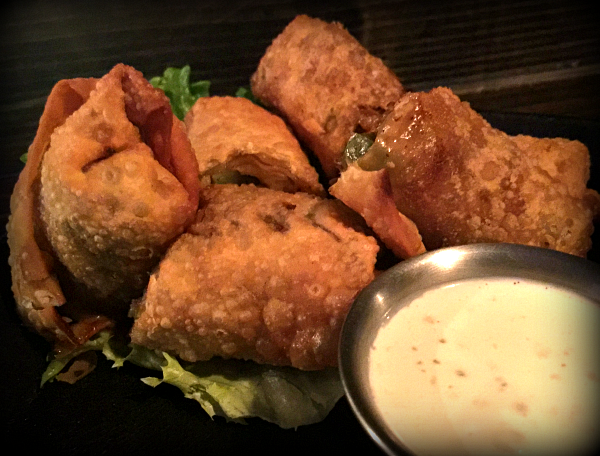 A philly IN a roll – not ON a roll. 
The Philly Rolls are made with sliced beef, sauteed onions and bell peppers, plus swiss cheese all wrapped inside an egg roll and served with ranch dressing (who doesn't love ranch?). These rolls are fabulous.
The rest of the menu contains something for every palate. There are salads like the Big Bleu, with fresh greens and grilled chicken topped with apples, blue cheese, and candied walnuts; sandwiches like Grilled Pimiento Cheese served on wheat berry bread (a vegetarian option); specialties like Fish Tacos, and a variety of inventive burgers.
My husband ordered one of specialties: Fish and Chips. These house-battered cod loins were mild and crunchy, and they were accompanied by a side of handmade chips.
The Tropicana has a full-service bar on the main floor and offers several beers on tap. Here's a sample of the ever-changing beer menu.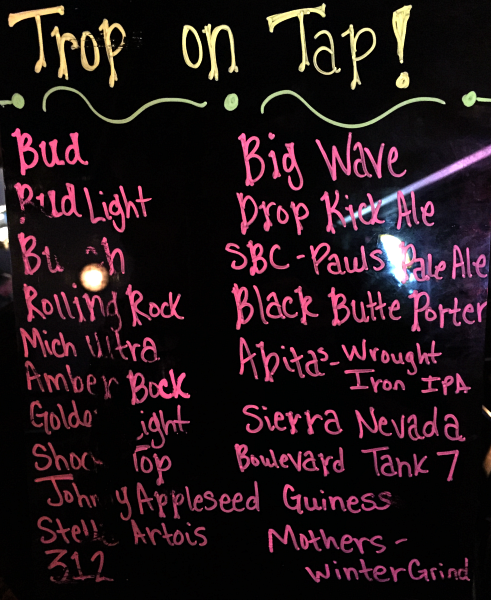 We visited the Tropicana on a Friday night, and heard live music from a band playing on the second-story stage.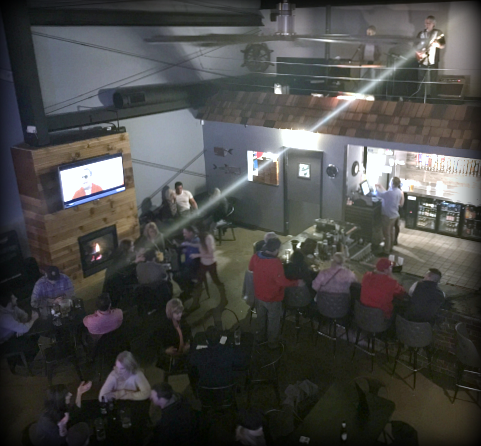 It looks like this musician is shooting laser beams on innocent diners below… 
In addition to the stage, there's also seating upstairs which consists of a long wraparound bar and stools overlooking the dining area below. We ate upstairs and enjoyed watching the hustle and bustle of the activity below.
We also had a clear view of this enormous octopus mural, which is a creative addition to the Tropicana's nautical theme.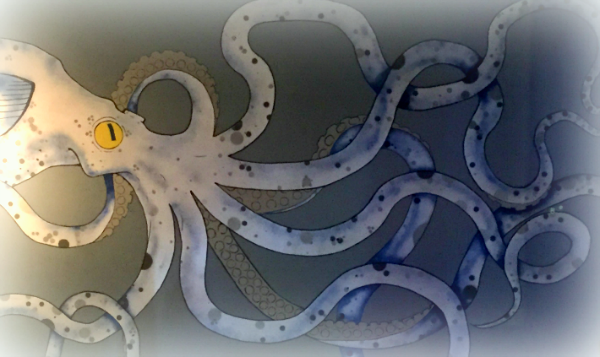 This looks small, but it actually spans a good portion of the wall. 
The Tropicana also has several outdoor dining areas. This makes me giddy.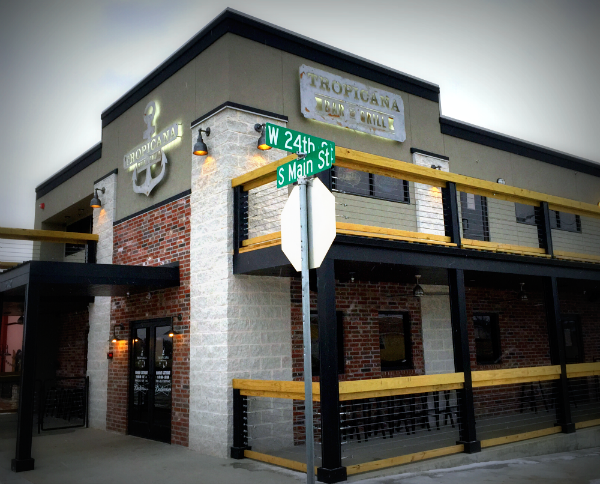 I love that more Joplin restaurants are adding this option. I look forward to chilling out on the Tropicana's patio this summer, whether it's for dinner or lunch (the Tropicana is open during the day, too; see its Facebook page for hours).
When we were done with our meal, we walked through the main floor and that's when it dawned on me. We were there on a busy Friday night, yet something was missing.
Smoke.
That's because the Tropicana is a smoke-free establishment. Woohoo!
But something that was there that captured our attention was this flashy contraption hanging on the wall.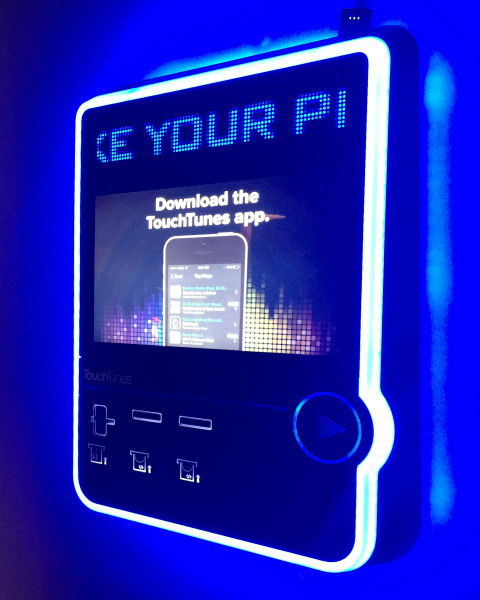 This looks like an overgrown smartphone, doesn't it?
Can you guess what it is?
It's a juke box for the digital age.
The Tropicana has certainly succeeded in putting a contemporary spin on the traditional pub atmosphere, creating a modern and welcoming gathering place on Main Street.
The anchor's been dropped – the Tropicana is here to stay.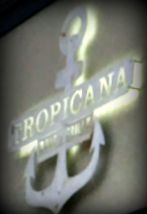 I couldn't resist the nautical pun.
Tropicana Bar and Grill is located at 2402 South Main Street. Click here to visit its Facebook page.
Enjoying the patio in summer
To read more about my adventures in the area, visit JoplinMOLife.com.