Relaxing in the glow of a crackling fire while sipping a smooth cabernet is a great way to unwind after a hectic week.  And savoring a gourmet meal on top of that?
Well, that makes for an over-the-moon experience.
Last Friday, I was able to decompress in the laid back atmosphere at Joplin's newest addition to the restaurant scene: Uncorked @ 1201.
Located in a bustling retail area on 32nd Street, Uncorked is an extension of the popular eatery Club 1201, which serves lunch during the week, brunch on Sundays, and offers monthly wine dinners. On Friday and Saturday nights, Club 1201 opens up the cozy, intimate portion of its complex called Uncorked.
Uncorked and Club 1201 are owned by local restaurateur Linda Williams, who has a knack for the business. She clearly knows what the people of Joplin want, as both Club 1201 and her downtown restaurant Club 609 (managed by her brother Steve) have been successful for years.
Both Club 1201 and Club 609 (named after their street addresses, in case you're wondering) offer upscale casual food with an eclectic twist. Each restaurant is decorated with a unique theme that injects playfulness and personality into each dining experience: Club 1201 utilizes vintage door frames and architectural details for decoration, Uncorked's current nautical themed interior will soon transform into a ski lodge feel for the winter, and Club 609's walls often highlight the talent of local artists.
Keeping things fun and fresh, both with the décor and with the food, is what keeps people coming in. And once again, Williams has nailed it with the opening of Uncorked.
This is the type of place where you can unwind with friends or reconnect with loved ones. Cozy and intimate, there's just a handful of dining tables and a few stools at the bar, and the restaurant can only seat about 25 people.
It's an ideal space for a small private party; for larger events Club 1201 opens the adjoining restaurant space (they offer both on-site and off-site catering services).
Uncorked's menu offers appetizers, salads and sandwiches, shareable plates (like tapas), as well as full entrees (each consisting of a meat dish served with a vegetable and a starch). There are gluten-free items and kid's menu items, as well.
Three words printed at the bottom of the menu sum up the overall intention of the restaurant: share, uncorked, unwind.
Ever obedient, I shared some dishes with my husband, sipped some uncorked cabernet, and unwound.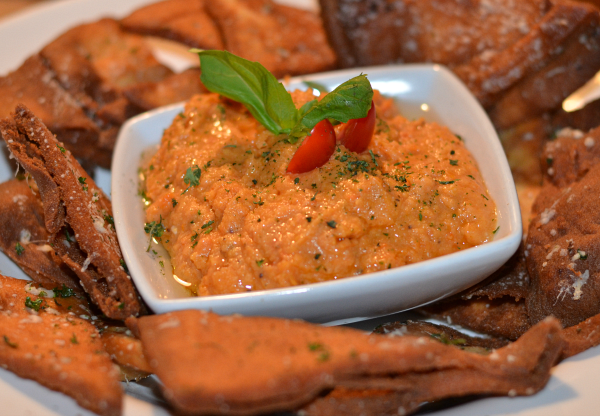 The appetizers we sampled included the hummus, the banana rumaki and the fried asparagus. The hummus flavor changes each week. We sampled the roasted red pepper hummus (the week before it was pumpkin). It was served with wedges of crisp fried naan bread (an Indian flatbread).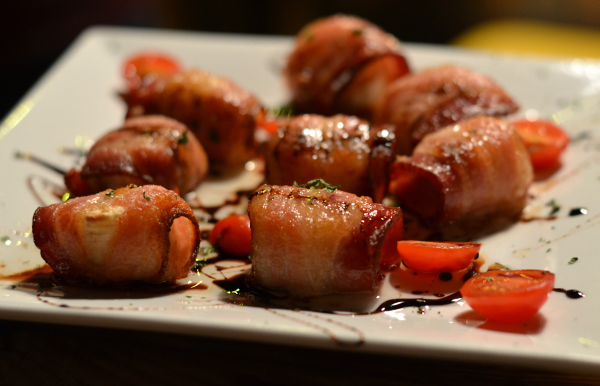 Uncorked's unconventional take on traditional rumaki piqued my curiousity, so I had to try it. Here, smoky bacon was wrapped around sweet, ripe banana bites instead of the usual water chestnuts, and then drizzled with a saffron oil and ponzu reduction (ponzu is like a citrusy soy sauce, by the way – I had to Google it). The pairing of these ingredients results in a delectable sweet/savory dish that reminded me of eating pancakes and maple sausage together (think a gourmet McGriddle).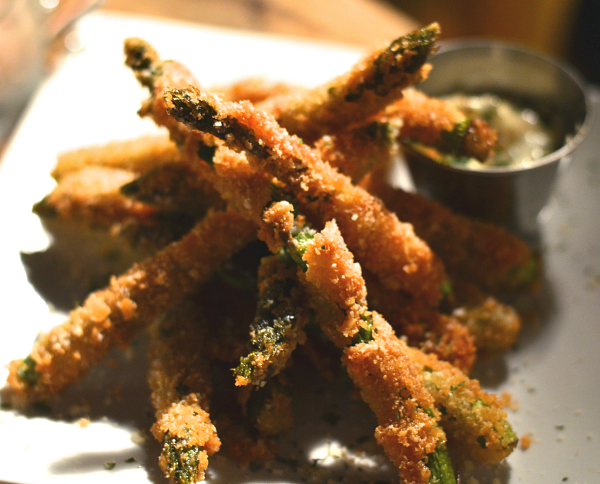 We rounded out our appetizer selection with the fried asparagus. The bright green stalks were coated in crispy panko, and held together nicely when dipped in the accompanying truffle mayo.
When we asked which item was the most popular from the "Anchors" or tapas section, the answer was the bruschetta steak sliders. I'll admit, I was not thrilled to eat a burger on our "date night" after a crazy week of fast-food meals eaten in the car while rushing kids from one activity to another. Still, they were popular for a reason and I wanted to find out why.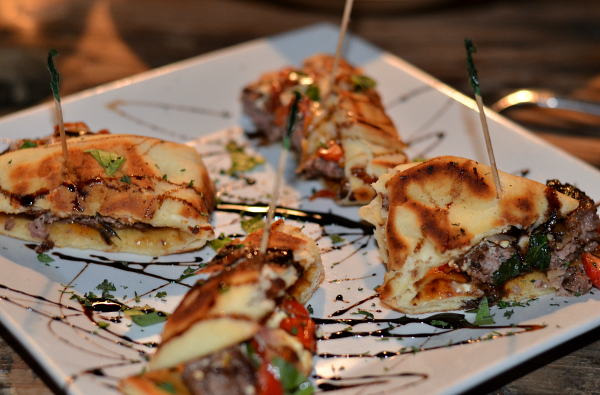 After my first bite, I knew.
These melt-in-your-mouth-tender steak burgers, topped with prosciutto, herb cheese and a balsamic reduction, were served in soft naan bread and tasted nothing like traditional hamburgers. The balsamic reduction's touch of sweetness complemented the saltiness of the cheese and offered a hint of sweet/savory flavor. Can you tell that I'm obsessed with this dish?
As my husband and I fought over the last bite of the sliders, our entree arrived. We had ordered the Chicken Bijan, which consisted of feta, basil and prosciutto roulade medallions drizzled with balsamic glaze. Not only did it offer a lively treat for the taste buds, but it also provided a feast for the eyes with its artful presentation.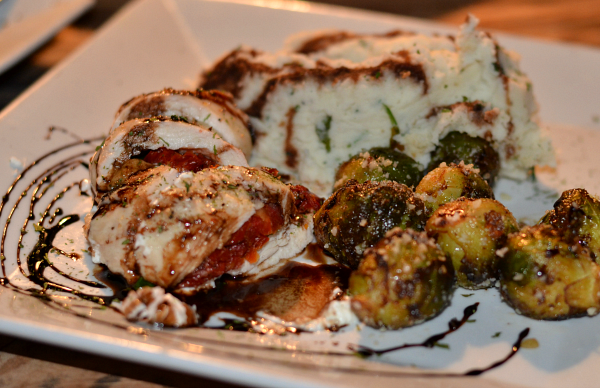 A gluten-free entree, Chicken Bijan was served with a hearty portion of fluffy mashed potatoes and tender Brussels sprouts – a vegetable that I love but rarely see served in Joplin restaurants.
So, what about that glass of wine in front of the fire that I was talking about at the beginning of the post? Well, my husband and I finally abandoned our forks, grabbed our wine glasses and waddled out to the patio.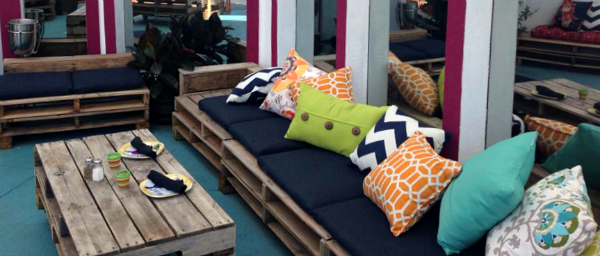 Ahh. This photo is from Club 1201's Facebook page. It was too dark for us to get a good photo of the patio by the time we got there, thanks to the end of Daylight Savings Time.
It's had to imagine that this relaxing outdoor gathering space, with its loungey South Beach feel, was recently a sterile concrete space. Now, plush cushioned seating lines the exterior of the building, beckoning patrons to unwind, have a relaxing conversation, and breathe in some fresh air.
I love that Uncorked offers this outdoor space. I often lament that there aren't many al fresco dining spaces in Joplin, despite the generally mild climate here (well, at at least this Chicago girl thinks it's mild).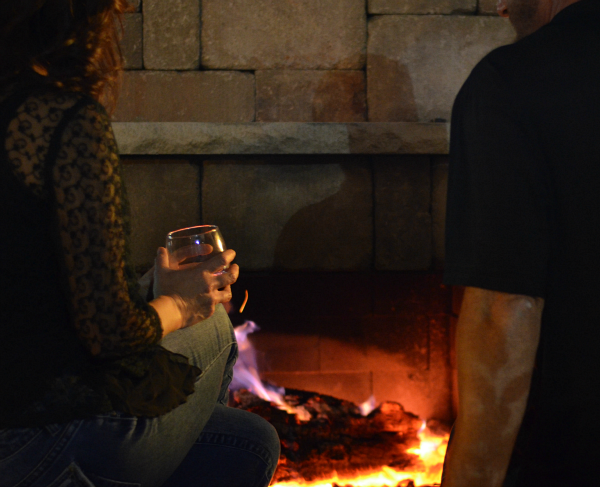 And when there is a chill in the air, like there was on the November night that we visited Uncorked, the heat from the patio's stone fireplace provides a comforting warmth, and encourages lingering.
And we did just that.
Uncorked @ 1201 is located at 1201 E. 32nd Street. Click here to visit its website.
To read more about my adventures in the area, visit JoplinMOLife.com.