Pirate's Plunder.
Superman.
Tizzy Lizzy.
These sound like names of amusement park rides that would make your belly flop.
But last week, these names carried a different meaning for us. These are the names of ice creams and sweet treats at Caroline's, and they made our bellies full, not flop.
My daughters and I kicked off the first week of summer break by engaging in our yearly ritual of celebrating the no-school season by going out for ice cream. This year, my girls picked Caroline's, an ice cream, candy, and coffee shop in Joplin's downtown district.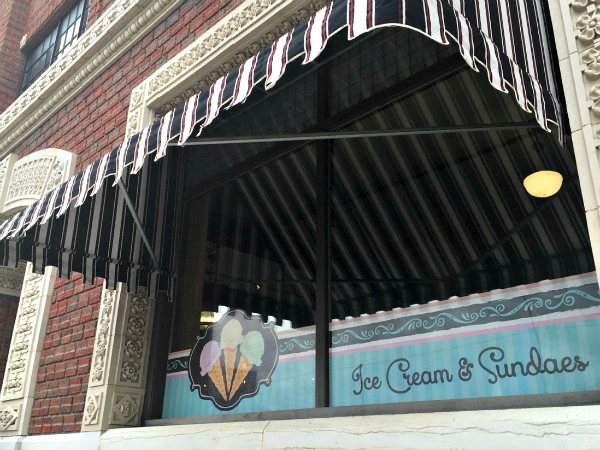 Located on the main floor of the historic Gryphon building, this ice cream parlor opened in June 2014. Owner Michael Joseph named it after his daughter, Caroline (the shop was initially called Sweet Caroline's but is now simply Caroline's – although it is still sweet).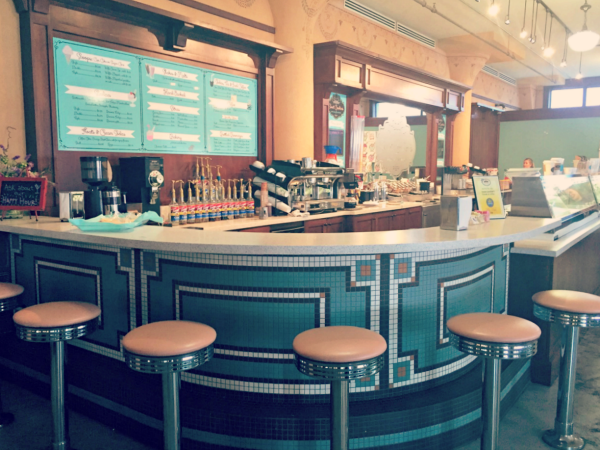 The focus of Caroline's is to offer an old-fashioned parlor experience, and to do so they serve Ice Cream Club ice cream, a premium parlor ice cream from Florida. There are 32 Ice Cream Club flavors that rotate at Caroline's.
My youngest daughter was immediately attracted to the vibrant red, yellow, and blue flavor called Superman (which actually has a vanilla flavor).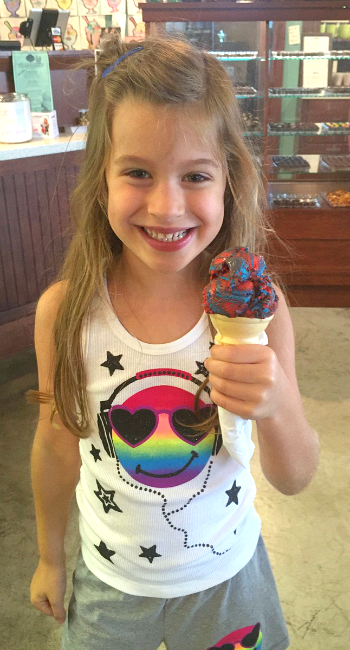 While I was busy ordering for my other girls, she went to town on her cone, and the next time I saw her she looked like this.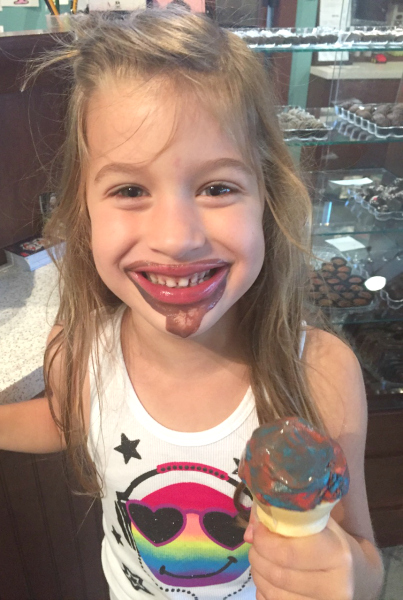 My oldest daughter created an eclectic combination of triple-rich Captain's Chocolate and Rainbow Sherbet, which is swirled with fruity orange, raspberry, and lime flavors.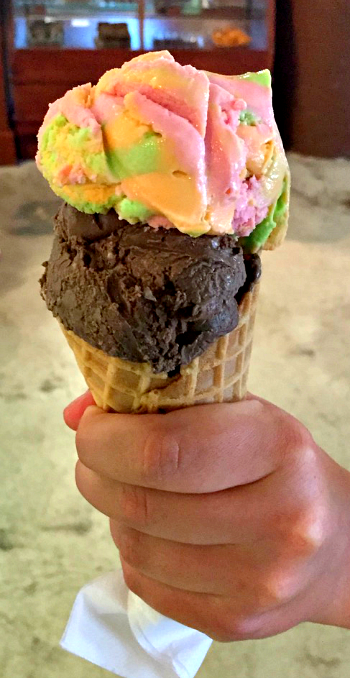 My middle daughter – the chocolate addict of the bunch – chose a scoop of Pirate's Plunder, a chocolate ice cream with chocolate-covered pecans and mini caramel cups swirled together with thick caramel. She topped that off with a scoop of Stellar Coffee (the only kind of coffee I allow her to have), which is a coffee ice cream that contains mini dark chocolate-covered coffee cups and a rich fudge.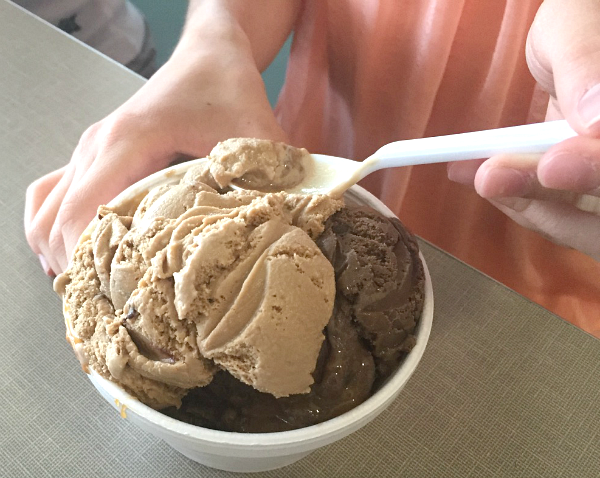 I didn't hear from her for quite a while as she worked her way through her iced confectionery tower. Meanwhile, I ordered an espresso to give me the energy to keep up with my kids (and their impending sugar highs) for the rest of the day.
Caroline's serves Onyx Coffee, a gourmet roaster located in northwest Arkansas.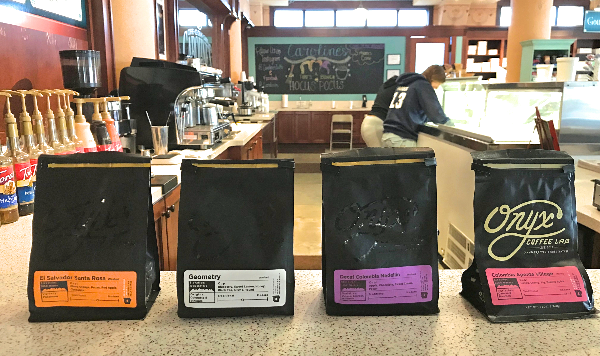 The 3 bags on the left have black Onyx logos on them, which apparently don't photograph well…
If you like adding milk to your coffee, Caroline's offers a variety of options; traditional dairy products like milk, half-and-half, and heavy whipping cream; coconut milk, almond milk, and soy milk.
While my espresso was brewing, I browsed through the candy case to find some treats to bring home to my husband (I'm kidding – they were for my private stash). I chose a dark chocolate sea salt caramel, a RumChata truffle, Kahlua truffle, and some candy bark called Tizzy Lizzy.
If chocolate isn't your thing (well, I guess we can't be friends, then), there are many other types of candy to choose from, like fudge…
…gummies…
…Jelly Belly candies…
…and a variety of confections that you can mix and match.
And if sugar isn't your thing because of dietary restrictions, no worries. Caroline's has something for you, too.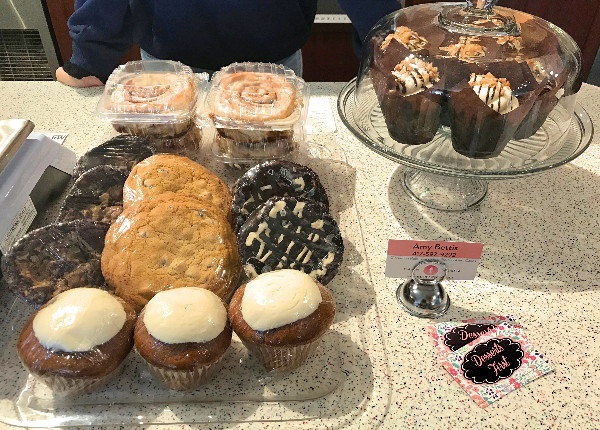 Each week, local baker Desserts First supplies the shop with a variety of keto-friendly treats that taste so good, you'll feel like you're eating the real sugar-and-carb-loaded things. Do yourself a favor and try the lemon cupcake – your taste buds will be wowed.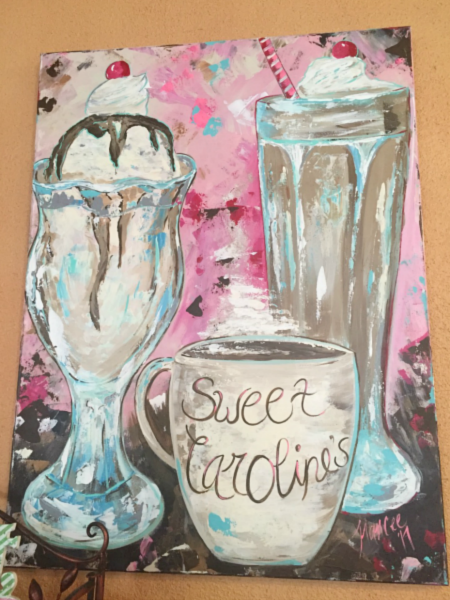 Caroline's also offers birthday parties in the shop, and provides off-site catering. Plus, it's open daily, so my ice cream, coffee, chocolate, and candy cravings can be satisfied seven days a week.
Sweet.
Caroline's is located at 1027 South Main Street in downtown Joplin. Click here to visit its website.
To read more about my adventures in the area, visit JoplinMOLife.com.