Finger-licking, soul-comforting Southern food. That's one of my favorite things that I was introduced to when I moved to Joplin from Chicago over 20 years ago. I enthusiastically tried various smoked meats, hearty side dishes, and heavenly pies that were perfected by the fine cooks at mom-and-pop restaurants in my new home town. One of the restaurants whose homestyle food brought me such pleasure way back then continues to do so even today: Big R's BBQ.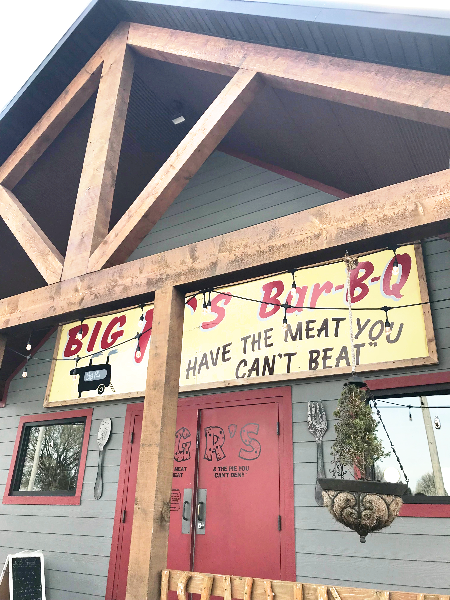 Located in between the city's I-44 commercial district and downtown Joplin, Big R's is a family-owned restaurant that has been here since 1998. The original Big R's opened in 1983 about 45 miles south of Joplin in the tiny town of Noel. Over the years, Big R's hickory-smoked meats have become somewhat of a legend in this region, making it the top barbecue joint in our city.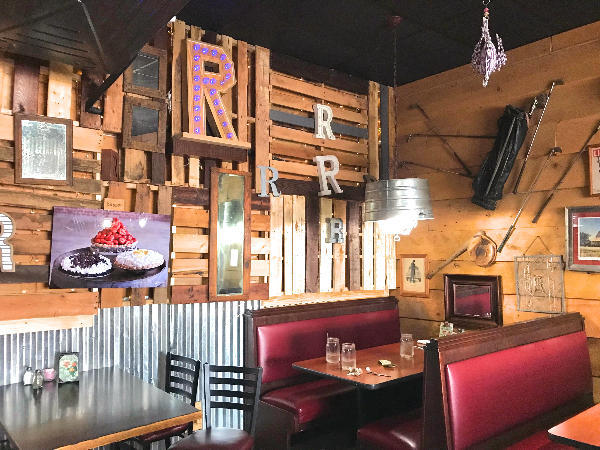 My husband Travis and I recently lunched at Big R's, and I prepped for the event by forgoing breakfast. Since we came for a late lunch on a weekday, we were seated right away, but be advised that the weekends can get crowded here, so call ahead and make a reservation to ensure that you don't have to wait with your stomach grumbling and your mouth watering.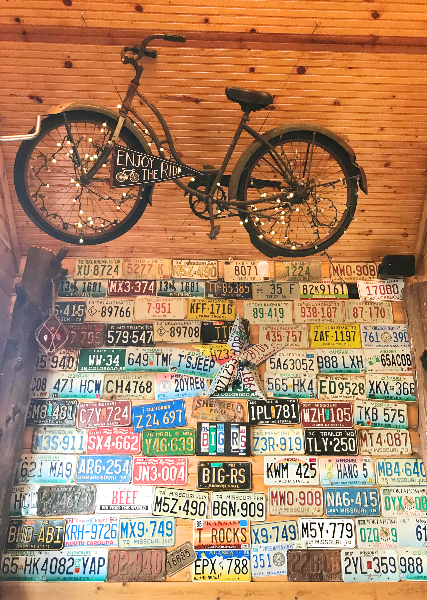 The inside of Big R's is decorated in a country-chic style, with junkyard items arranged in artistic and playful ways, like the mural-like wall of old license plates. or the whimsical bike-riding stuffed armadillo positioned above the inside entrance. The overall feeling is relaxed, welcoming, and a bit cheeky.
Big R's menu offers a wide selection of food: appetizers, salads, sandwiches, and classic Southern dinners featuring baby back ribs, double-smoked burnt ends, hand-breaded chicken fried steak and pork tenderloin, plus traditional barbecue items.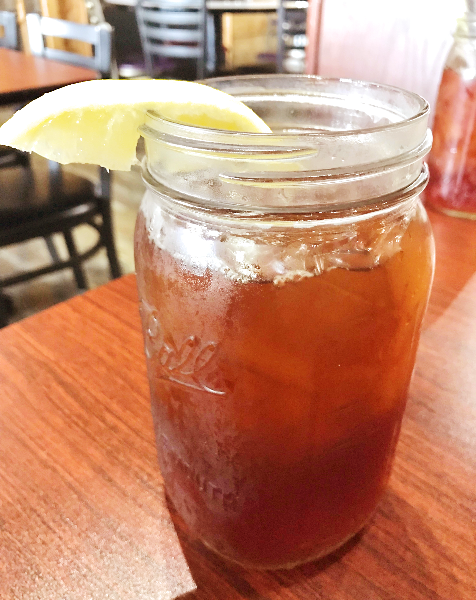 While we sipped on our refreshing iced tea (served in these classically Southern mason jar glasses) and waited for our appetizer, our friendly server delivered a small plate filled with warm, fluffy, homemade rolls, served with dairy butter, as well as some of the best apple butter I've ever tasted.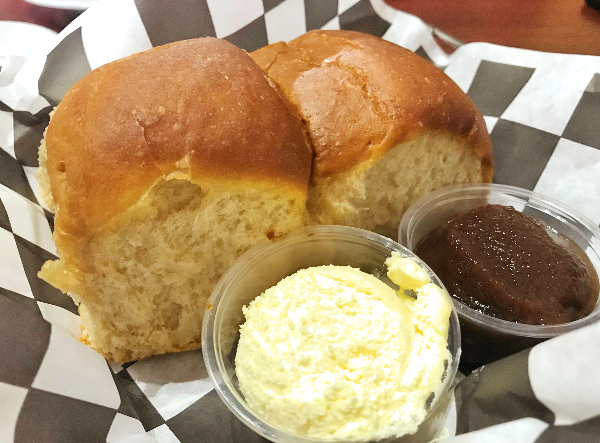 I was slathering apple butter on the second bite of my roll when our server reappeared at the table balancing what looked like a game of Ring Toss on a plate. I put down the roll and assessed the generously sized slices of fried onions that formed the massive Tower-O-Rings in front of me. If all the portions are this huge, I'm going to have to seriously pace myself.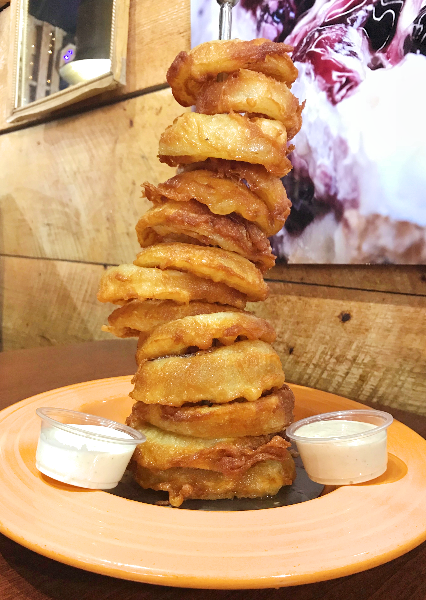 The beer-battered onion rings were served with both ranch dressing and "R Dippin' Sauce." As much as I wanted to keep eating them, I kept the promise I'd made to myself and finished one ring and then asked to have the rest boxed to bring home. I knew that my kids would devour them as an after-school snack (and I'd score major points with them, too).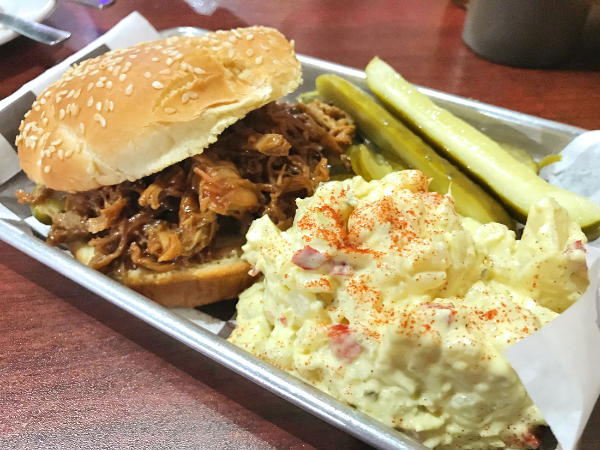 For my entree, I ordered the pulled pork sandwich. The sweet and tangy barbecue sauce was a nice accompaniment to the tender meat. For my side dish, I chose the potato salad; with finely chopped veggies like onions and peppers, it was packed full of both crunch and flavor.
Travis ordered the brisket dinner, which came with two sides. He chose the slightly sweet baked beans and pasta salad (the side dish of the day), which contained pieces of fresh broccoli, red onions, olives, and bacon bits.
When we were about halfway done with our entrees, our server stopped at our table and reminded us to make sure that we left enough room for pie.
There's no way I can think of eating pie right now, I thought as I wiped some barbecue sauce from the corner of my mouth. But knowing that a trip to Big R's would not be complete without a slice of its homemade pie, I decided to order some slices to go. My kids were going to be very, very happy with me after school.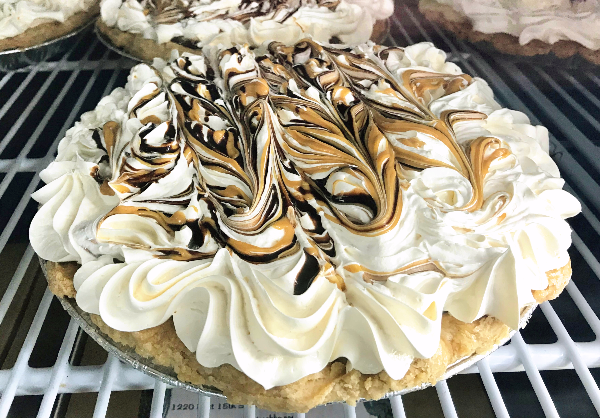 The refrigerator in the front of Big R's displays a variety of tempting pies, including this pretty Peanut Butter-Filled Chocolate Pie. But we limited ourselves to just two options because, like everything at Big R's, the slices are huge.

We brought home a slice of strawberry pie, often called The Mile High Strawberry Pie for obvious reasons…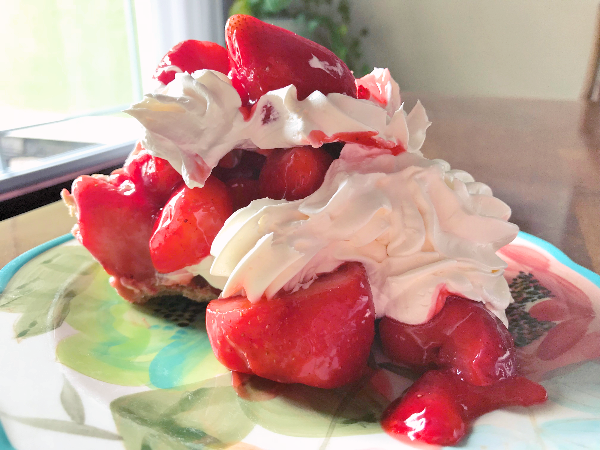 We also brought home a slice of coconut cream pie, which consisted of a creamy coconut custard, topped with fluffy cream, then dusted with bits of toasted coconut.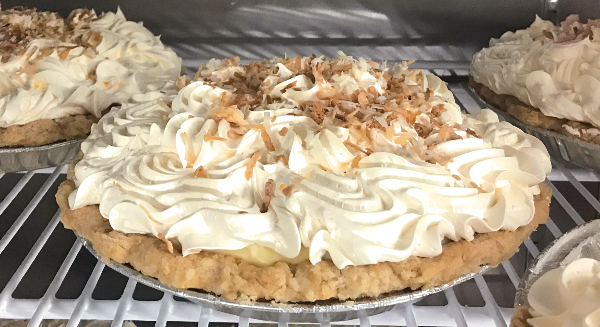 It's a coconut-lover's dream.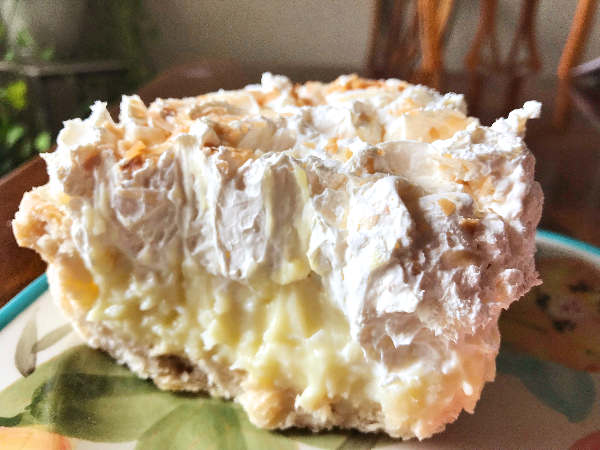 One thing is for sure: With quality homestyle Southern fare, you will never leave Big R's hungry – or disappointed. They've had so many satisfied customers over the years (like me!) that they've earned the right to declare, "We've got the meat you can't beat and the pie you can't deny!"
Big R's is located at 1220 E. 15th Street. For more information, visit its website, Facebook page, or Instagram page.
To read more about my adventures in the area, visit JoplinMOLife.com.