When Instant Karma opened its doors a decade ago, it was branded as a restaurant that served gourmet hot dogs. But the restaurant's chef and owner, Jason Miller – who is constantly inventing new dishes that we never knew we could live without – has expanded the menu over time, offering something for virtually every palate.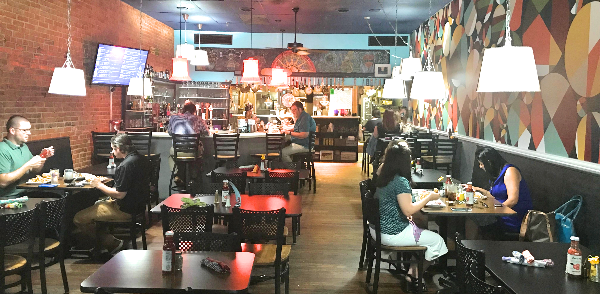 The vibe that Miller has created at Instant Karma can be described as quirky with a conscience, like a world sprung forth from the imagination of Dr. Seuss, where Miller plays the roles of both Sam-I-Am (persistently trying to get the protagonist to eat something new and unusual like green eggs and ham) and The Lorax (diligently advocating for the environment, which Miller does in several ways, such as sourcing food from local farms, and using cloth napkins and biodegradable straws).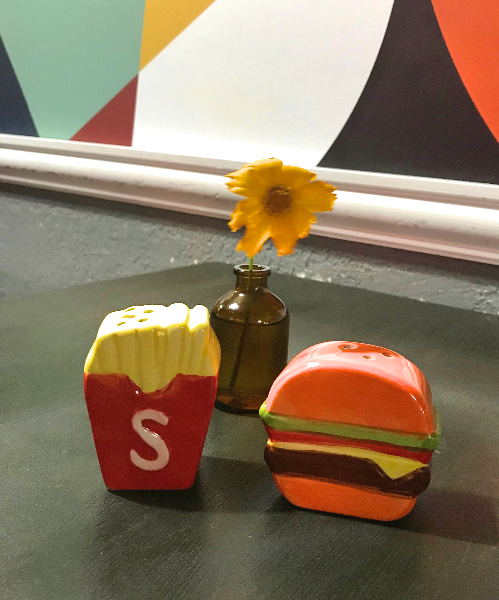 The Menu
There's a nice variety of menu items to choose from at Instant Karma. Of course, you can still order a gourmet hot dog here; choose the locally sourced pork option, or the vegan dog. Top it with whatever you like, or try one of Miller's eclectic creations, like The Turning Japanese: a bacon-wrapped dog topped with sautéed pineapple, scallions, and teriyaki sauce.
A popular vegetarian option is The Volkswagen Bus: a vegan dog topped with vegan chili and either ranch slaw or bleu cheese slaw. Even if you don't pick this as your meal, be sure to order a side dish of the bleu cheese slaw because this stuff is heavenly! I usually order my dog topped with the slaw and a drizzle of sriracha.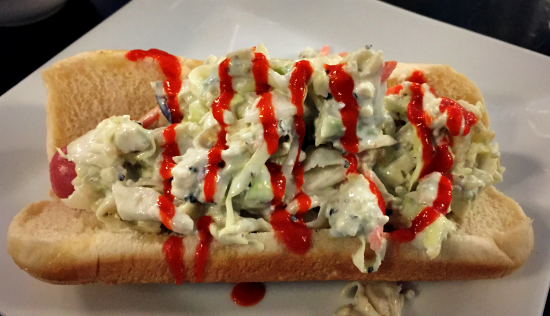 If you have a hankering for a burger, you can choose from several types here, too, from a ⅓-pound ground beef burger (top it with delicious Karma sauce for a favor explosion), to the whimsical Doughnut Burger…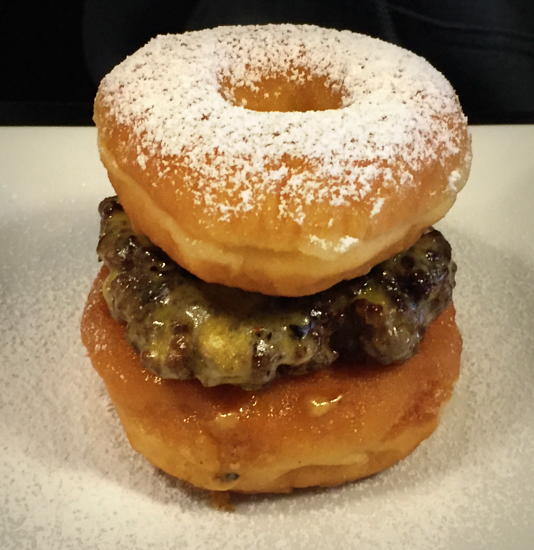 …to the Salmon BLT Burger, to The Impossible Burger, a plant-based burger topped with vegan cheese, which is what I ordered when I recently dined here for lunch with my friend Carrie.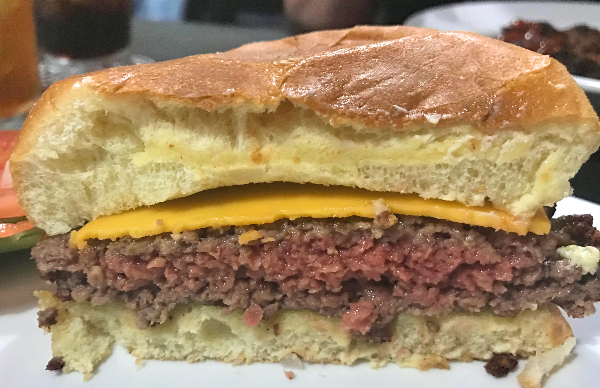 It tasted and looked (see the red center?) so much like a traditional beef burger that I convinced my meat-loving husband Travis to try it for dinner a few days later, and he loved it as much as I did.
In addition to hot dogs and burgers, Instant Karma's menu (see bottom of post) includes sandwiches, salads, and hearty entrees like Chicken & Waffles, and Impossible Meatloaf & Mash, a vegan option which Carrie ordered (she told me she'd been craving it all week). This generous portion of vegan meatloaf was served with red-skinned mashed potatoes and oven-roasted broccoli.
Carrie offered me a bite of her meatloaf to try. I admit I was hesitant to do so, having experienced a traumatic meatloaf experience in my childhood. My sister, who is 12 years older than me, was babysitting and served meatloaf for dinner. But she failed to cook it all the way through. Eating undercooked meatloaf is not something that one easily forgets, but Instant Karma's vegan version was so delicious that I've reconsidered my opinion of meatloaf – at least the plant-based kind. 
The Brews
Not only is Instant Karma a great place to eat, it's also a prime spot for sampling local craft beer.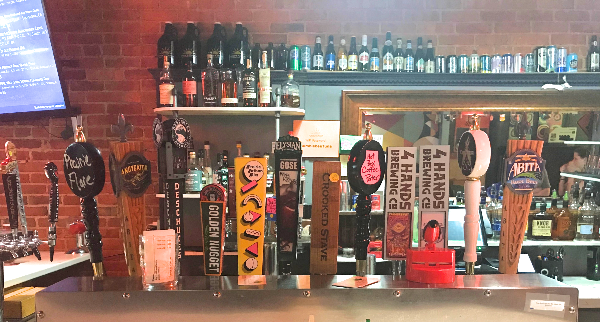 The daily beer menu is featured on a monitor located next to the bar.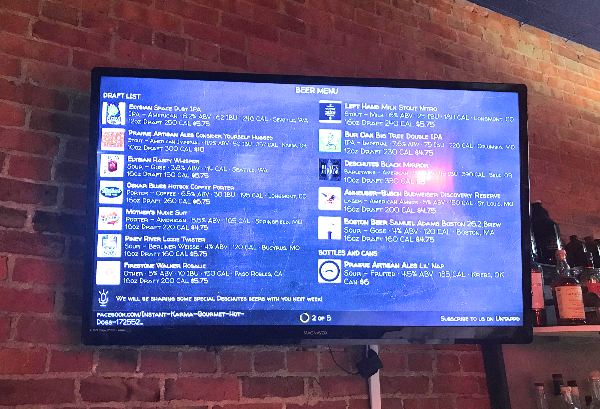 I spent several minutes squinting and focusing on the monitor from across the room before I realized that I could download the Untappd app on my phone and see the beer menu up close. Just now, I opened up the app and saw that there are 21 draft beers offered at Instant Karma today. That's quite a variety!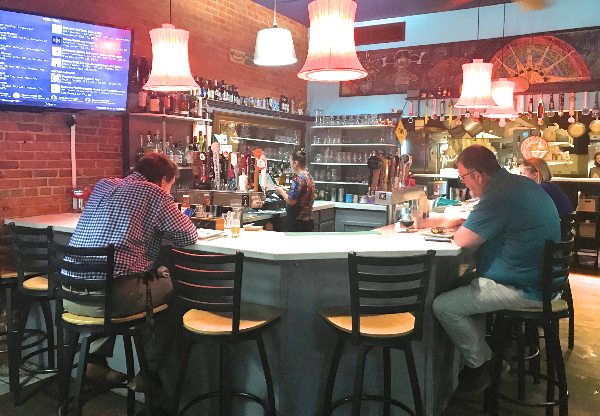 From local beer to unexpected food pairings, there's always something new to try at Instant Karma. Would you be open to trying one of Miller's wildly imaginative Texas Chainsaw Massa-Curd Burgers, topped with melted cheese curds and brown gravy? 
You do not like them.
So you say.
Try them! Try them!
And you may.
Try them and you may I say.
Instant Karma is located at 527 South Main Street in Joplin. Delivery is available through Bite Squad. Click here to visit Instant Karma's Facebook page.
Here are photos of the menu: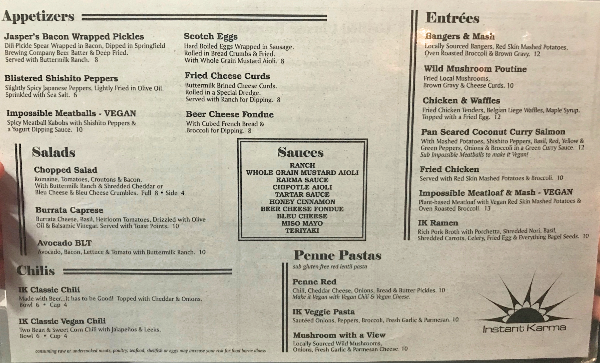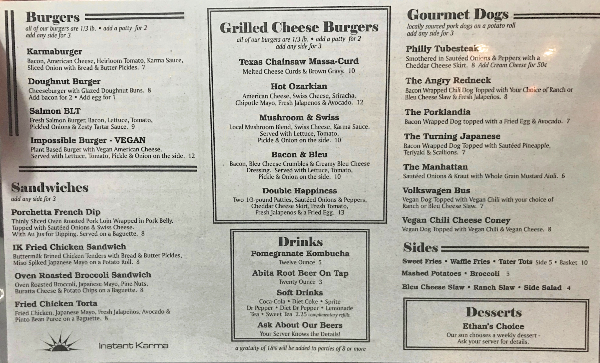 To read more about my adventures in the area, visit JoplinMOLife.com.
This post was updated on 6/27/19.