I step on the boardwalk and hear a plunk as a startled frog heads to the water for safety. A gentle breeze rustles the tall prairie grass in the nearby meadow, and helps carry an elegant monarch butterfly on its migratory journey. Immersed in this serene environment, I feel peaceful, refreshed – and miles away from civilization.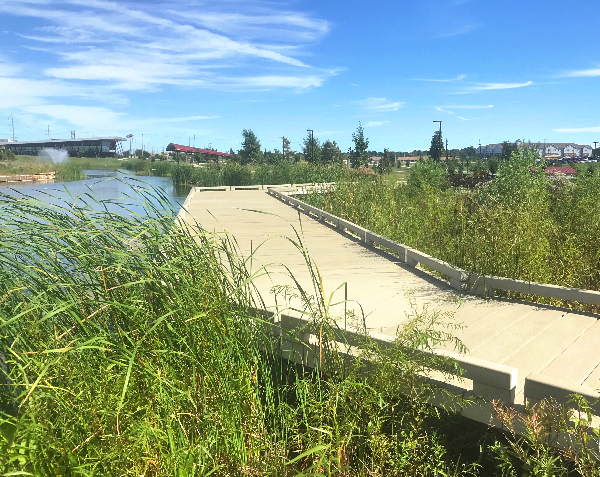 Yet, I'm actually within the city – at Joplin's Mercy Park. Built on the site of the former St. John's Hospital, which was destroyed in a tornado in 2011, the land here was donated to the city by the hospital to be used as a green space.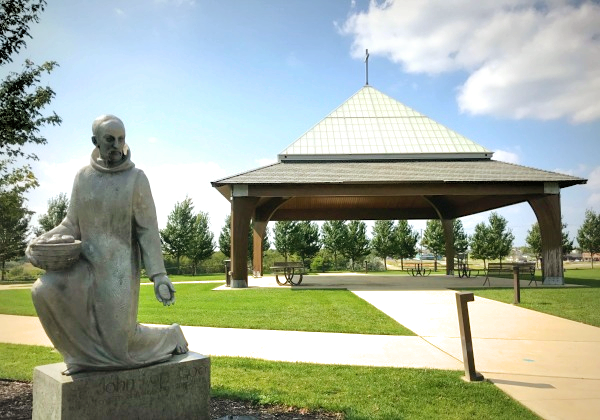 Mercy Park is a passive park, offering visitors a nature-filled space for rest and reflection. There's no playground equipment or sports facilities here. However, all you have to do is walk across 26th Street (there's a designated pedestrian crossing) to reach Cunningham Park, where you can find several types of activity stations.
When it opened in 2016, I honestly didn't know what to think of Mercy Park. Being located in the post-tornado zone, it was hard to imagine this area, once covered in mounds of debris, transforming into a green space. But the intentional design of the park, coupled with its unique features, has made Mercy Park one of my favorite outdoor spots in Joplin.
Here, accessible walking trails lead visitors around a green space, a pond, a meadow, and up to Mercy Chapel and Gardens for a sweeping view of the entire space.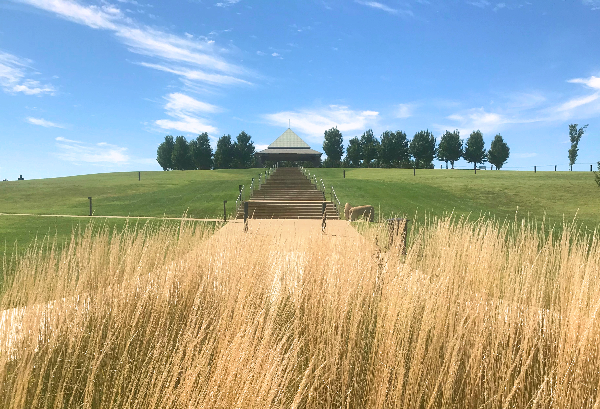 The land is quickly becoming lush, thanks to the conscientious effort to plant and seed the area back in 2016. Oak, hickory, and Eastern redbud are some of the 30 varieties of deciduous trees that, along with four types of evergreens, six types of grasses, and 22 species of prairie flowers (like wild bergamot and purple coneflower), are beginning to fill the once barren space.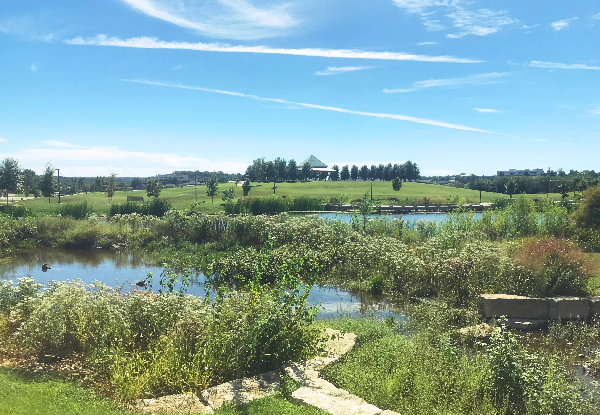 Walking among the tall grasses and flowers always reminds me of the prairie lands of my home state of Illinois. But did you know that this type of landscape once covered much of Western Missouri, too?
Mercy Park's pond supports its share of wildlife, as well, including plankton, algae, fish (such as common minnows and shiners), crayfish, frogs, and the occasional Northern water snake.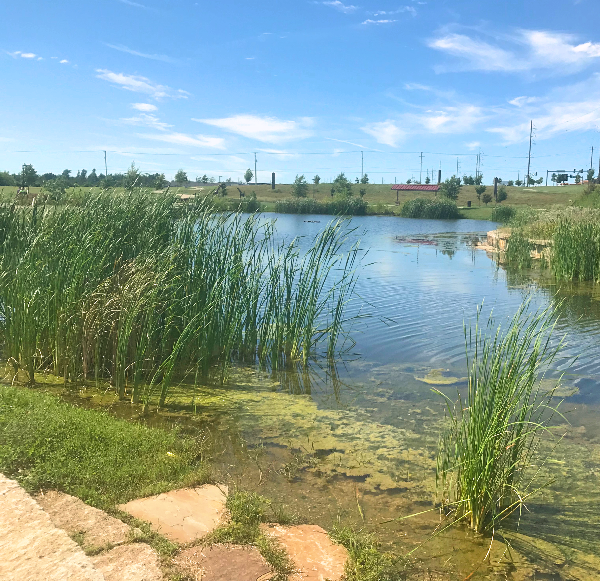 There's a large fountain in the center of the pond to aerate it and maintain the water quality.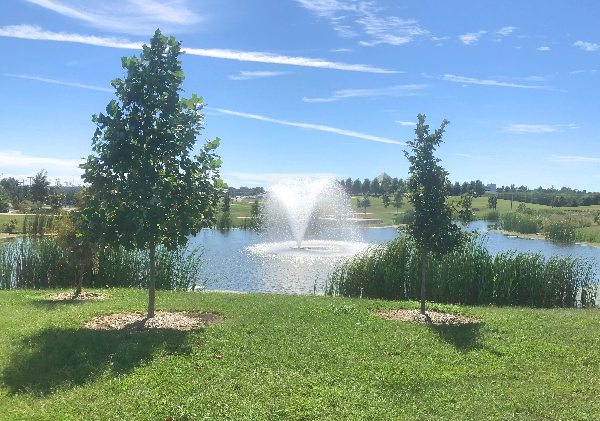 My favorite feature in the pond area is the 112-foot-long, PermaTrak concrete boardwalk. There's something magical about being able to walk on the water.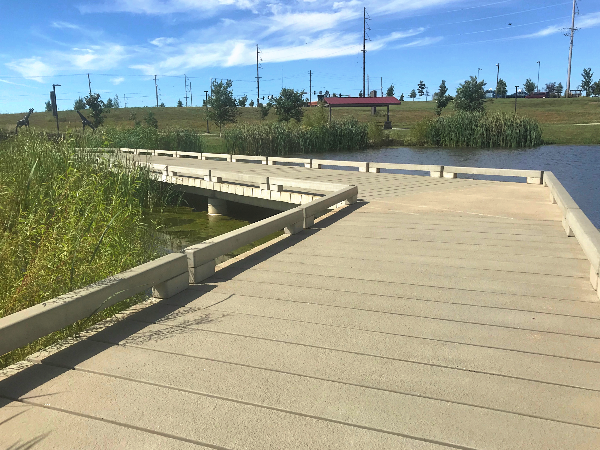 There are also picnic tables under pavilions, offering picturesque dining spots.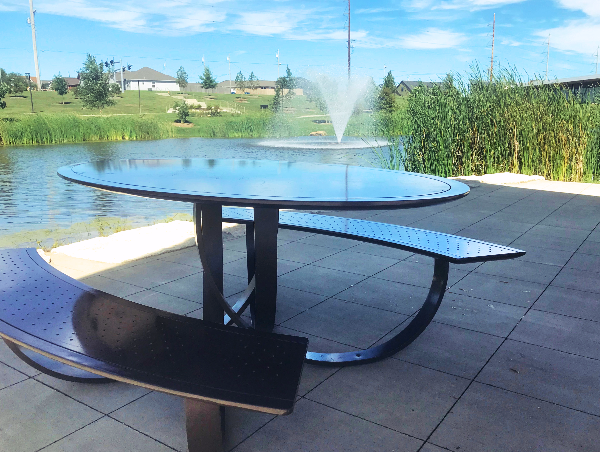 Sometimes I like to simply sit on one of the benches and just rest.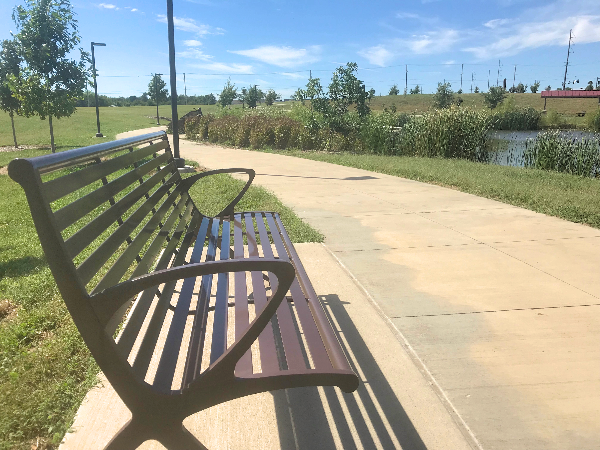 In addition to its natural beauty, Mercy Park hosts several pieces of art to admire.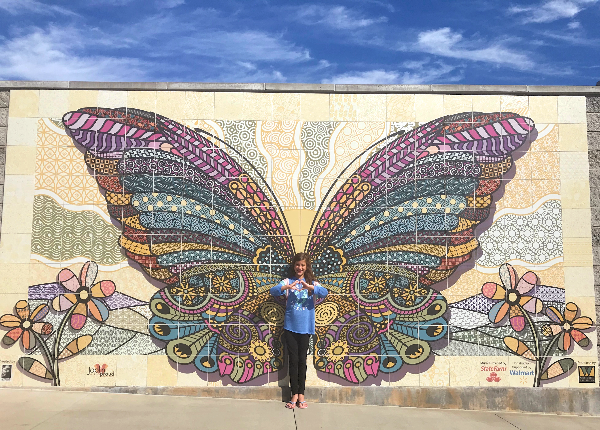 With its kaleidoscope of colors and patterns, the 10-by-20-foot mural On the Wings of Butterflies by AJ and Jordan Wood is mesmerizing. It also makes for a fun photo op.
On the back side of that mural is another one entitled Together We Create. This mural was designed by 50 area elementary students as a project through Art Feeds.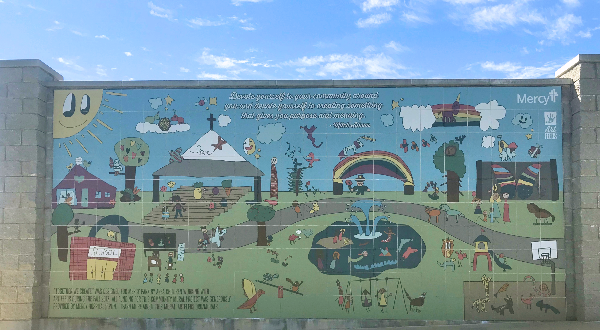 In addition to the murals, you'll find nine bronze sculptures in the Rotary Sculpture Garden, a joint project of the Joplin Rotary Club and the Joplin Daybreak Rotary Club.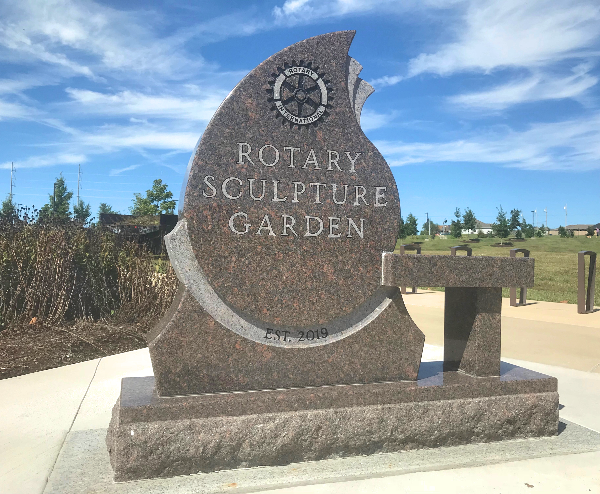 The sculpture garden begins at the parking lot and flows clockwise through the park. Here are the pieces you will encounter along the way.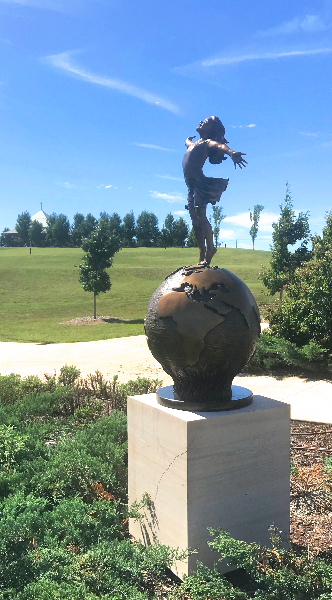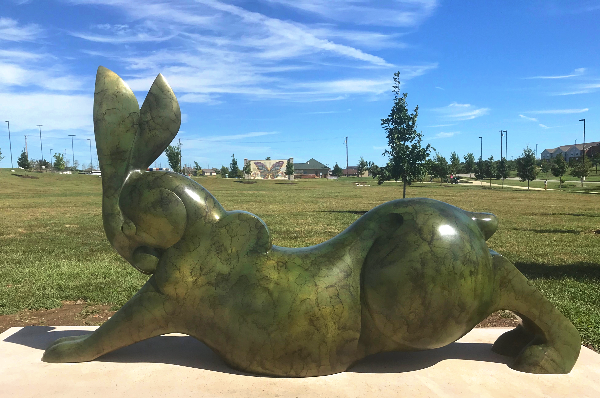 On a side note, when I came upon this sculpture, it had a colorful rock balanced on it as part of an interactive hide-and-seek game for the group Joplin Area Rocks.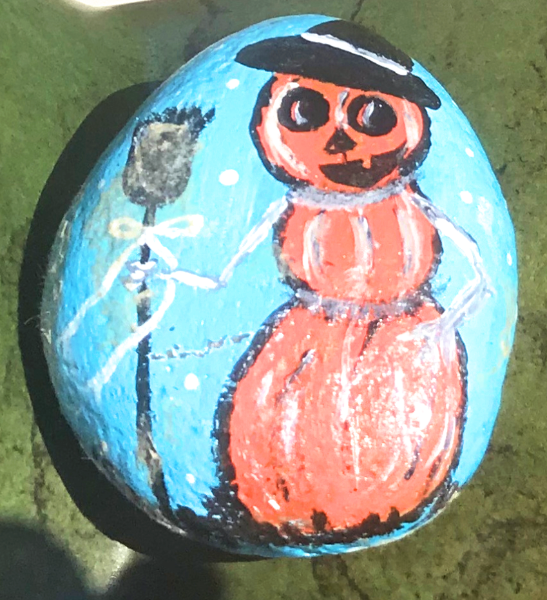 If you happen to find one of these painted rocks, you can take a photo of yourself with it, post it to the group's Facebook page, then find a new hiding place for it. It's a simple way to bring a bit of brightness into someone's day, and Mercy Park is the perfect place for this.
Back to the sculptures…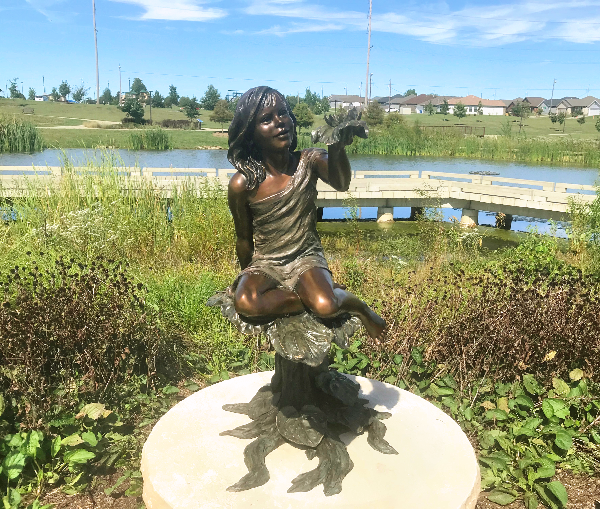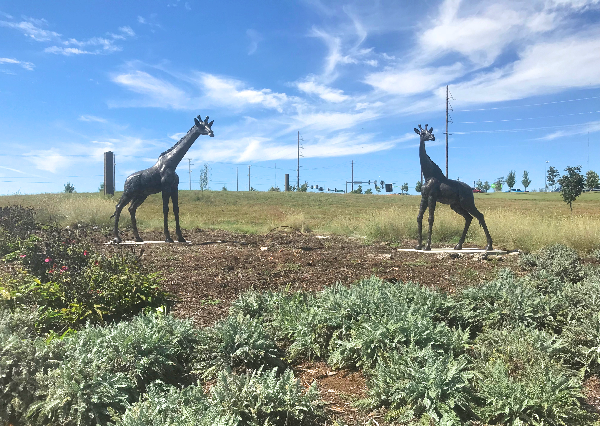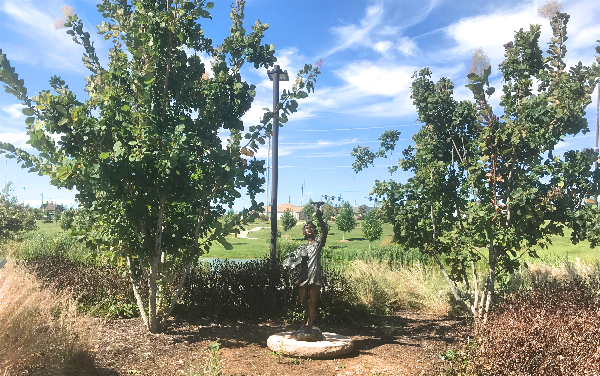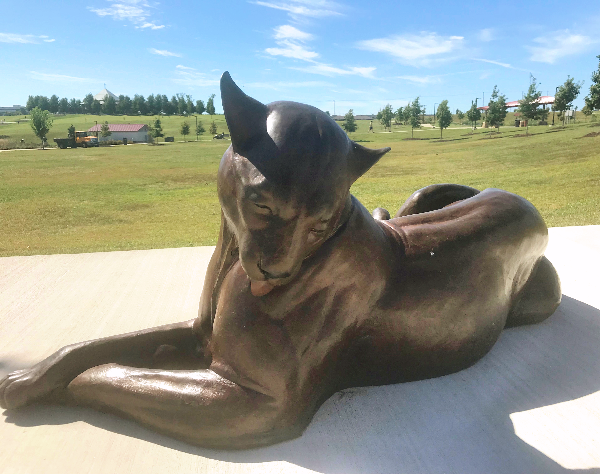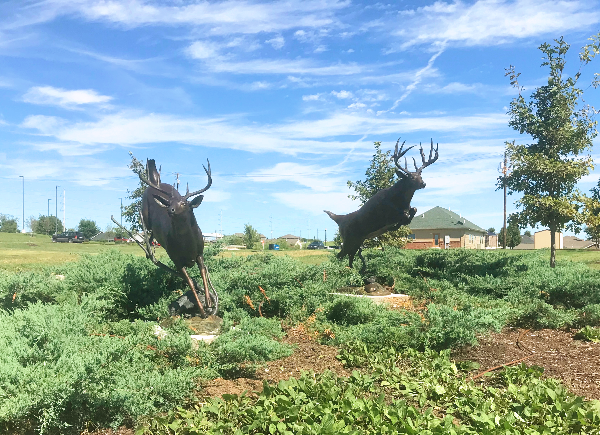 Mercy Park encourages visitors to connect with nature and art in an effort to promote wellness without having to leave the city.
It's an urban mind spa.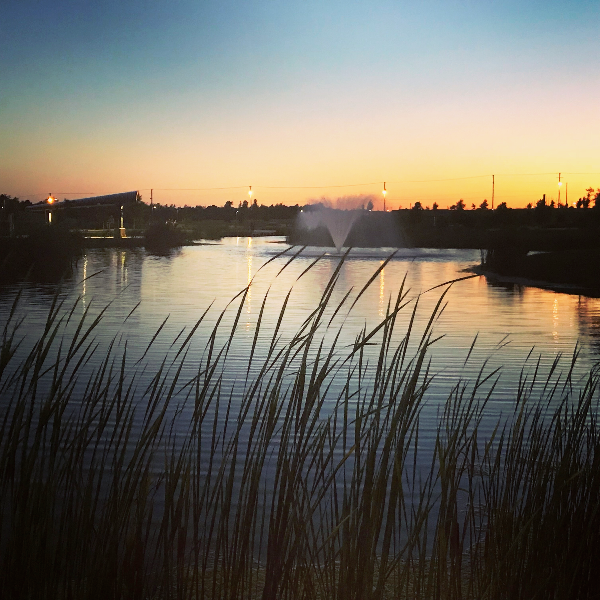 Mercy Park is located at 3002 St. John's Boulevard. For more information about the facilities available at the park, click here.
To read more about my adventures in the area, visit JoplinMOLife.com.