Instant Karma in downtown Joplin is known for its gourmet Black Angus hot dogs, such as The Tueben (topped with sauerkraut, swiss cheese and homemade Karma sauce) or the Chihuahua (topped with avocado and sour cream and wrapped with bacon).
So when my husband suggested that we eat lunch there I expected to order a hot dog.
But when I checked the Instant Karma Facebook page and saw the special of the day, all of my hot dog plans flew out the window. I knew I had to try the Cubano Burger. It consisted of a patty made from marinated ground pork, salami and ham which was topped with Swiss cheese and house-made pickles and then pressed on a panini press and was served with dijon aioli for dipping.
The Cubano Burger did not disappoint. It had a subtle sweet/spicy flavor and I loved the crunch of the added fresh pickles (made with fresh dill). I spread some of the garlic aioli on the burger, and while I didn't notice that it added much to the overall flavor of the burger, it still tasted delicious.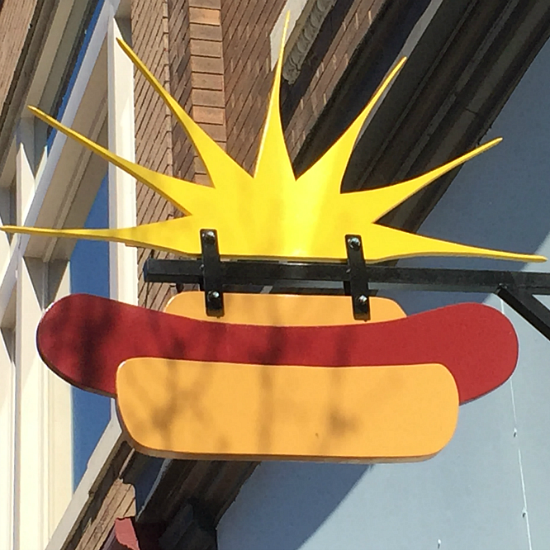 The burger special came with a choice of a side, and I chose the crispy shoestring french fries. Instant Karma is very generous with their portions, so I split my fries with my husband. The fries came with a choice of a dipping sauce; I chose the Good Karma Sauce (like Thousand Island dressing with a kick) and my husband chose the Chipotle Mayo (which had a nice spicy, smoky taste).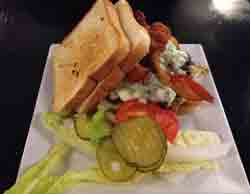 My husband ordered the Bacon & Bleu Grilled Cheese Burger, a new menu item.
The sharp taste of the bleu cheese paired well with the smoky bacon. My husband enjoyed it, but thought he would probably prefer it served with a bun rather than sandwich bread (hence, more burger-like than grilled-cheese-like).
We enjoyed our fresh-tasting gourmet lunch so much that we practically licked our plates clean. Getting up to leave, we felt so stuffed and sleepy that we joked  that we had eaten ourselves into an "Instant Coma."
There is an extensive list of items on the menu at Instant Karma, including salads, pasta and vegetarian fare (including vegetarian hot dogs).
I'll be sure to try a hot dog on our next trip to Instant Karma. Maybe a hot dog wouldn't be so filling that I'd need a nap afterwards.
Instant Karma is located at 527 South Main Street. Click here to visit Instant Karma's Facebook page.
*Since writing this post, Instant Karma has become a family favorite. Here are some highlights from our visits: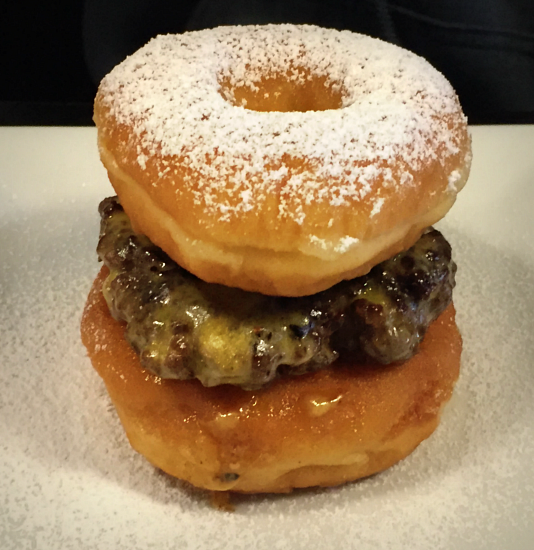 Heavenly Donut Burger (my oldest daughter's favorite)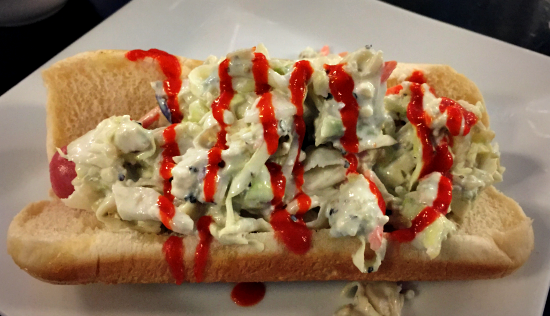 My favorite – The Bio Diesel, a veggie hot dog with homemade coleslaw 
Two of my favorite people 🙂
To read more about my adventures in the area, visit JoplinMOLife.com.