Infuxn.
Let's start with the pronunciation of this odd little word, specifically the latter half.
It does not rhyme with suction; it rhymes with fusion.
Now, put it all together and say in-fusion.
Not only is that what the name sounds like, it also describes what goes on at Joplin's ultra hip vodka bar and eatery called Infuxn Kitchen + Cocktails.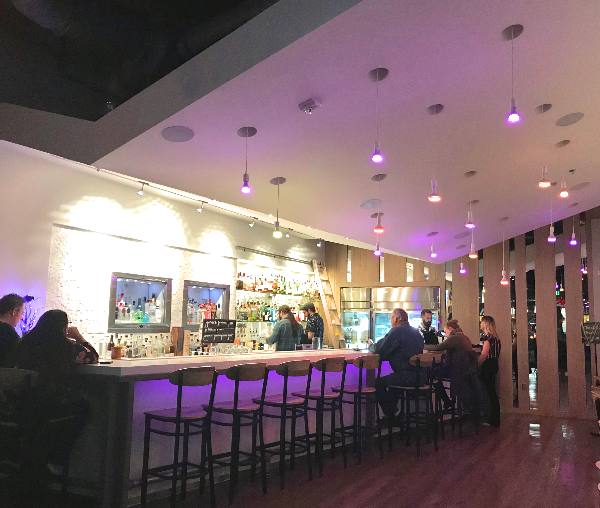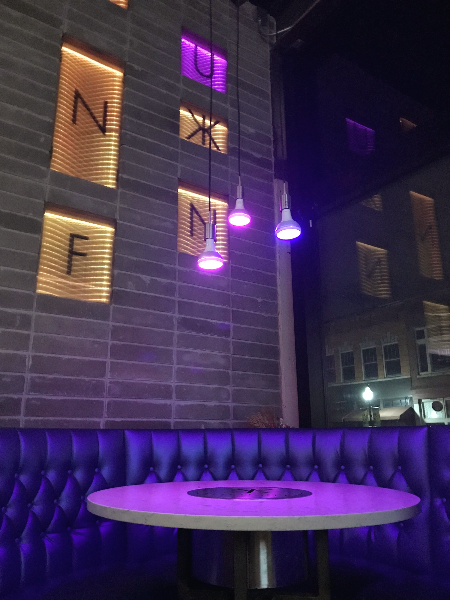 This upscale lounge with its sleek decor, frozen drink rail at the bar, and vodka bank in the rear makes me feel like I've have been transported from southwest Missouri directly to a club in Vegas.
The vodka bank. Care to make a withdrawal?
In 2019, Infuxn expanded its lounge to include a full dinner menu, and swapped its low-profile tables for wooden dining tables so that its patrons could comfortably enjoy a night of cocktails and dinner all at one convenient location.
Naturally, I had to try it out, so my husband Travis and I went there recently on our date night.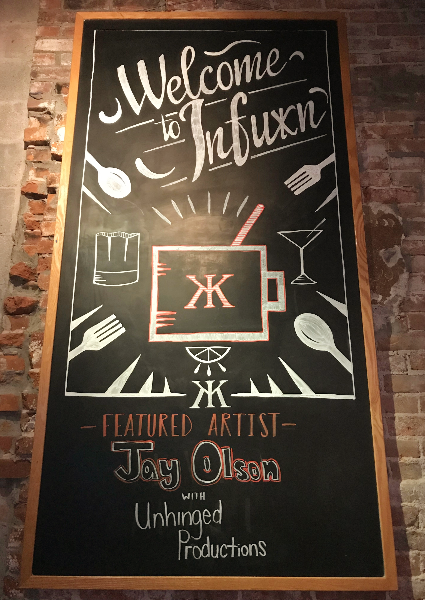 Infuxn sets itself apart from other local venues by focusing on the art of the cocktail. Many of the drinks here are actual infusions, which are defined in the dictionary as "drinks, remedies, or extracts prepared by soaking the leaves of a plant or herb in liquid."
Yes, Infuxn has a remedy for whatever ails you.
The medicine man here is Daniel Valentine, the creative force behind Infuxn's cocktail elixirs. He has crafted a menu of drinks that is anything but ordinary. Daniel even takes his art beyond the menu by concocting a daily drink special, plus he makes customized drinks based on his patrons' requests.
The elixir that beckoned to me on our date night was the Lower Elevation, a refreshing citrus drink with a kick.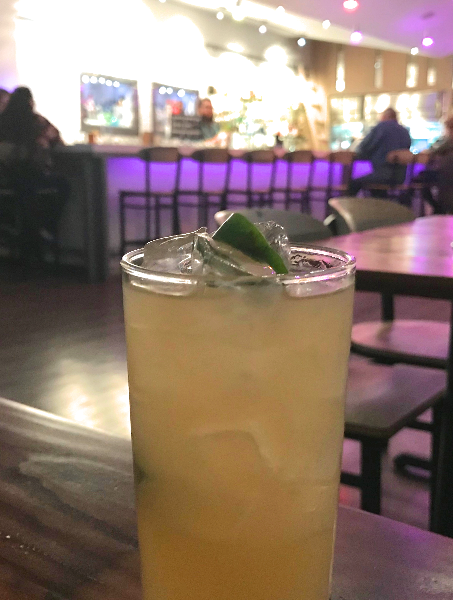 It was made with some ingredients that I recognized: Espolon tequila, fresh lime and grapefuit juices, house sour, and muddled jalapeno; and some ingredients that I had to look up: El Bujo mezcal (a smokier relative of tequila), and habanero-infused St. Germain (an elderflower liquer).
Travis ordered the Last Summer.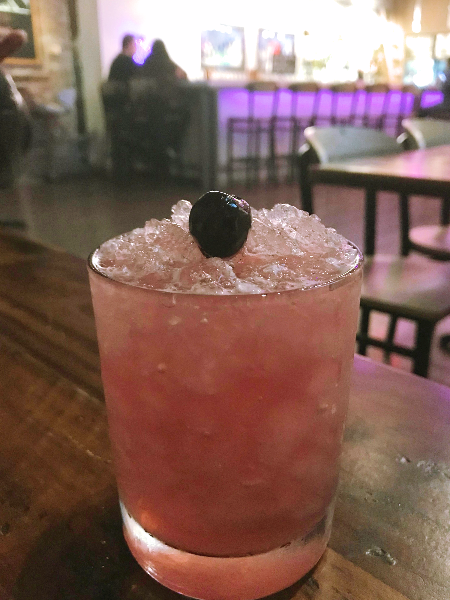 Made with Hendrick's gin, lavender-ginger syrup, and fresh lemon juice, this cocktail is served over ice and topped with a Luxardo cherry, and it goes down easily, so pace yourself. Do yourself a favor and eat that decadent (and expensive) Luxardo cherry on top; fruity with a hint of amaretto, Luxardo cherries are the elegant cousins of the familiar Maraschino cherries.
We ordered the hummus of the week to nosh on while we sipped our cocktails (Risotto Rice Balls and Antipasto Rose Flatbread, I'll see you on future visits).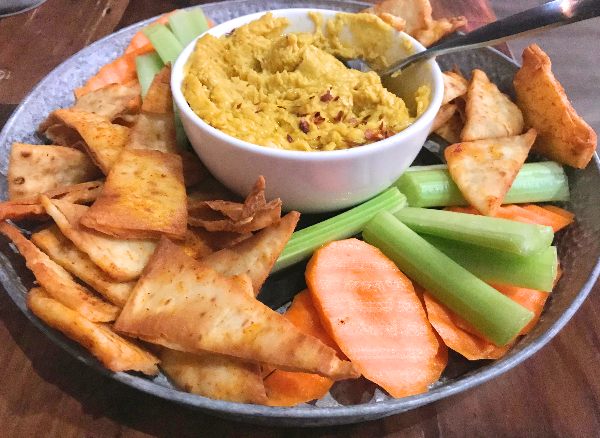 Our curry hummus was served with fresh celery, carrots, and either baked or fried naan (we chose the pillowy fried naan, which is lightly seasoned and highly addictive).
On a previous visit, when Infuxn only served appetizers and small plates, we'd ordered the Crab Stuffed Mushrooms. They are still on the menu, so I thought I'd include a photo of these generously stuffed, creamy and savory goodies for you.
The dinner menu at Infuxn offers something for nearly everyone's palate and dietary needs. For those seeking an upscale burger made from superior-quality beef, there's The Infuxn Wagyu Burger; if eating plant-based is your thing, there's the meatless Beyond Burger.
If you're cutting carbs, try the Tuscan Chicken Mornay or the meaty and succulent Seared Strawberry Salmon, topped with balsamic vinegar and strawberry salsa, and served with asparagus, and your choice of two sides.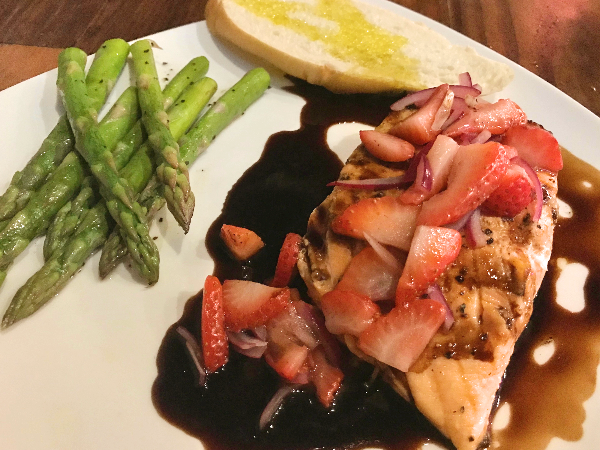 Travis ordered the steamed vegetables and new potatoes as sides for his salmon (the Parmesan mash is a good low-carb substitute for the potatoes).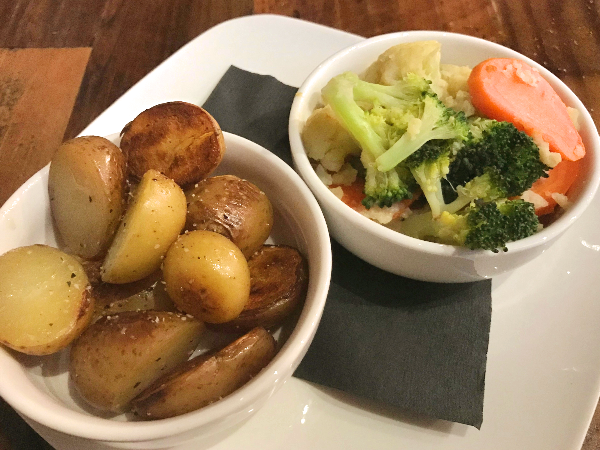 Since we were at a vodka bar, I chose to go the traditional Russian cuisine route. I ordered the carb-loaded Homestyle Beef Stroganoff, a hearty (and insanely huge) dish filled with mushrooms, carrots, and tender beef in a rich sour cream sauce, and served over farfalle pasta.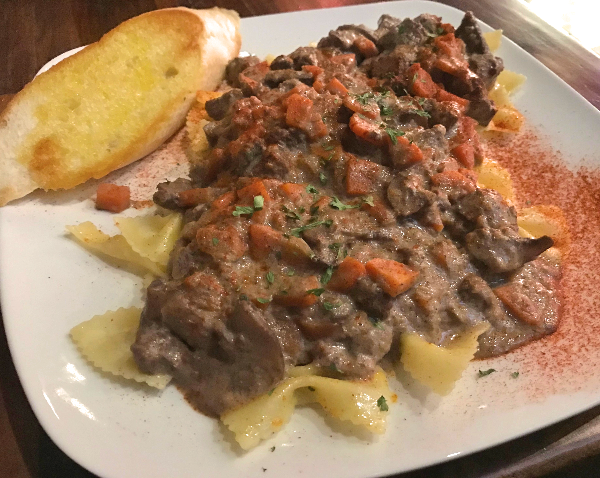 I also ordered a cup of Infuxn Borscht with my meal, because where else in Joplin can you find borscht on the menu?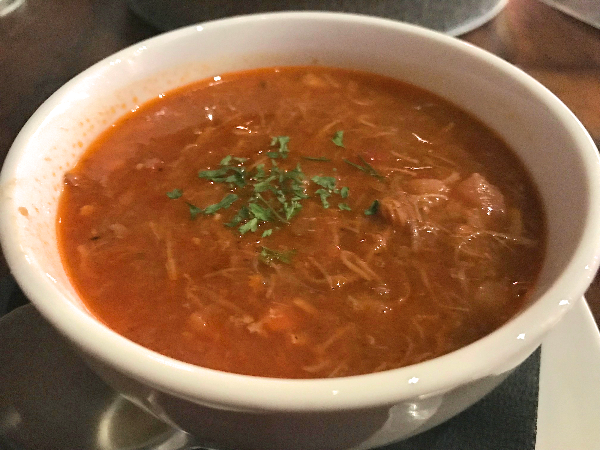 This traditional root vegetable soup, often found in Russian and Polish cuisine (although its origins are actually Ukranian), contains shredded beef and pork that is simmered in a tomato base.
Both the stroganoff and the borscht dishes at Infuxn are family recipes, and they reminded me of similar dishes that I ate growing up in a Polish household.
I'm excited that Infuxn is part of Joplin; it offers a one-of-a-kind experience in our city, making it a must-visit place for both tourists and locals.
Just make sure you practice saying the name before you go.
Infuxn Kitchen + Cocktails is located at 503 S. Main St. Click here to visit Infuxn's Facebook page.
To read more about my adventures in the area, visit JoplinMOLife.com.