There's something decadent about brunching. For one thing, going out for brunch implies that you possess ample time to linger over a morning meal, which is quite the opposite of how I typically find myself each morning, reaching for grab-and-go foods as I scoot the kids out the door to one activity or another – even on the weekends.
Sigh. I remember those weekends before having kids when I could sleep in, back when time was a luxury.
Brunching is special because it typically happens at locations with elegant decor and neatly-pressed linens covering the tables. It's as though these places understand that if you possess leisure time in the morning, then you deserve to celebrate that in beautiful surroundings, by golly.
Finally, brunching involves eating dishes that are essentially fancied-up versions of regular breakfast fare. Take Eggs Benedict, for instance, which is basically a plate of eggs, bacon, and toast that's been artfully arranged and topped with a sumptuous sauce.
Yes, brunching has been an elusive activity for me for the last decade or so, ever since parenting trumped leisuring as my primary focus on the weekends.
That is, until last weekend.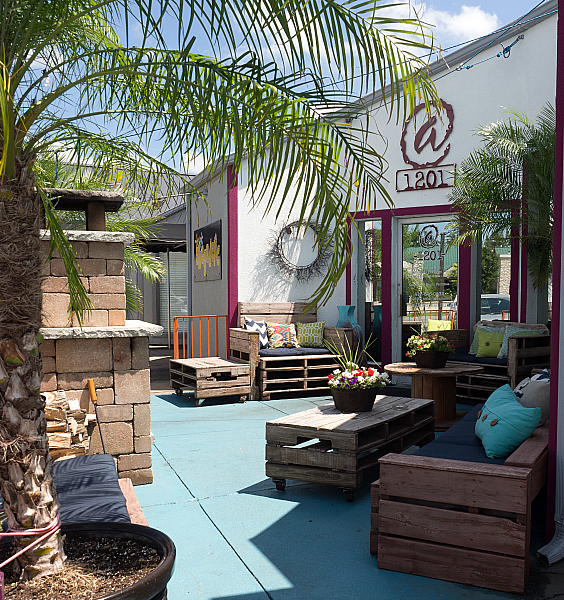 Our kids spent Saturday night at Grandma's house, leaving my husband Travis and I with – gasp! – no obligations on Sunday morning, so we decided to treat ourselves to brunch at Club 1201.
For years, I'd been hearing people talk about brunching here and telling me I just had to try it. Club 1201 serves brunch only on Sundays, lunch on weekdays, and dinner on Fridays and Saturdays (in the rear dining room of the building, in what's called Uncorked @1201). Over the years, we'd eaten every other meal except brunch here, but this was about to change.
To commemorate this occasion, I even wore a dress. It just seemed like a brunchy thing to do.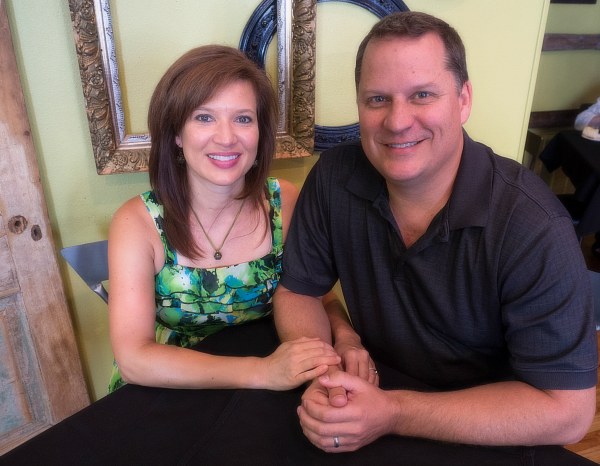 The interior of Club 1201 is decorated with an eclectic collection of picture frames, doors, and other architectural features that are presented as pieces of art, which creates a uniquely sophisticated backdrop. Linda Williams, the owner of the restaurant, greeted us and showed us to our table, which was covered with crisp black linens.
So far, so fancy.
Linda asked us if we'd like to start off at the Bloody Mary Bar, which is somewhat of an institution at brunch here. While we aren't Bloody Mary drinkers, we'd heard so many people rave about Club 1201's bar that we had to at least check it out.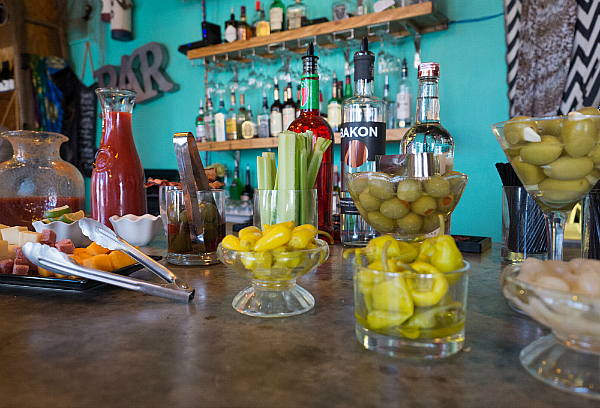 Club 1201's Bloody Mary bar is set up in the rear dining room (the one that houses Uncorked @ 1201 on weekend evenings), and you can customize your drink to your heart's desire. Starting with a base of tomato juice or Zing Zang (if you like yours spicy), you can then add vodka (plain, bacon, or sriracha), and dress it up with an assortment of olives and bacon.
You can also celebrate your brunch with a sweet and bubbly mimosa, or with a nice caffeinated cup of coffee, juice, or water.
We started off our brunch date by ordering the beignets. I fell in love with beignets when I lived in New Orleans, where they're served sprinkled with so much powdered sugar that it's impossible to eat them neatly, and you end up looking like a ghost.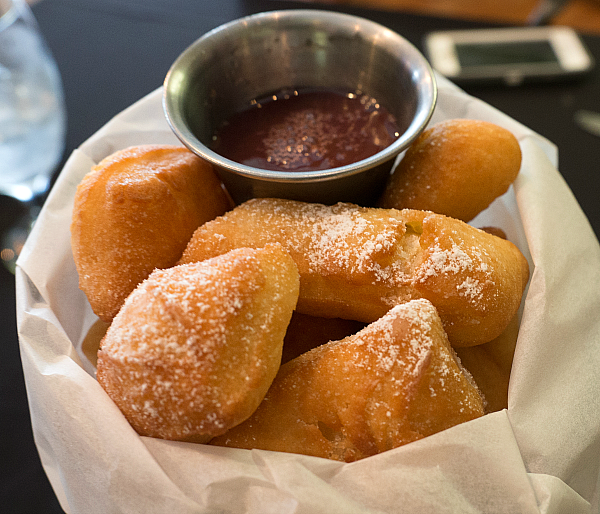 Club 1201's beignets arrived at the table with an elegant dusting of powdered sugar and a raspberry coulis for dipping. These little French doughnuts were warm and moist, with the coulis adding a light touch of sweetness.
But because I love to envelop myself in a cloud of powdered sugar when I eat beignets, I asked our server to bring an extra dish of it. You can take the girl out of New Orleans, but you can't take the New Orleans out of the girl.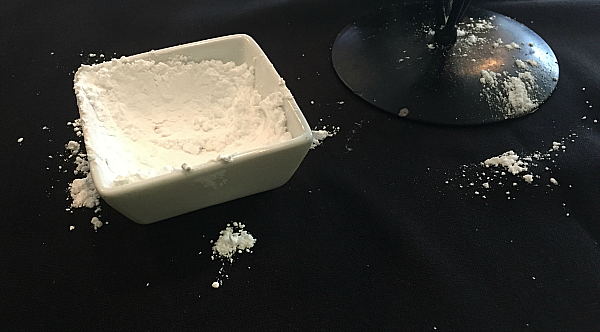 Our fancy table didn't look so fancy afterwards, though.
I ordered the Eggs Benedict for my entree. At Club 1201, the poached eggs are stacked on top of smoky bacon and toasted baguette slices, then drizzled with a buttery Hollandaise sauce. You can choose either fruit or Parmesan potatoes as a side dish; I chose the potatoes, which were thin and crispy and sprinkled with a sweet and spicy seasoning that was thoroughly addictive.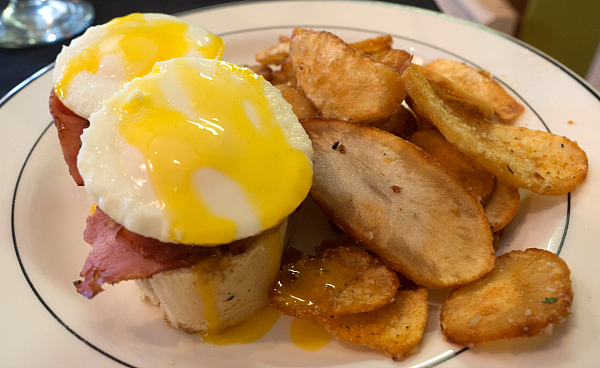 Travis ordered the Steak and Egg Flatbread for his entree. He prefers lunch foods over breakfast foods, so this flatbread option was ideal for him. The size of a small pizza, this dish was made with pieces of tenderloin and scrambled eggs topped with flavorful fresh rosemary.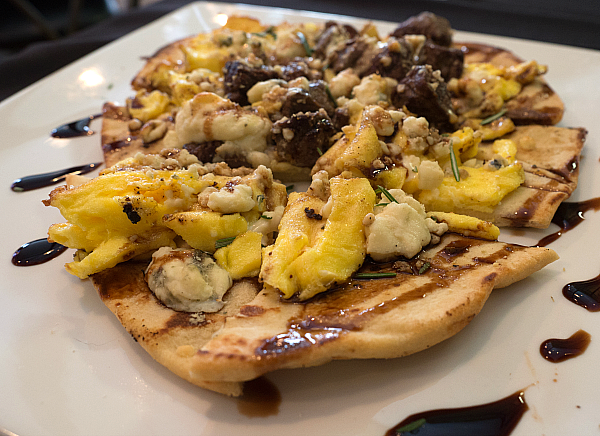 Other items on the brunch menu that looked interesting to me included the Monte Cristo Sliders, made with ham and cheese and served on cinnamon swirled toast, then dusted with powdered sugar (more powdered sugar!); and the Chicken and Waffles (something my daughter raves about but I have yet to try), which is served with maple syrup and peppered sausage gravy.
The chef's frittata and crepe specials are not listed on the menu because they change each week, so your server will tell you about those. Club 1201 also offers a lunch menu during brunch time on Sundays. Having more options makes everyone happy.
As we left Club 1201 on that sunny morning, my husband turned to me and said, "That was really good. Why don't we do that more often?"
I was about to launch into a speech about the million reasons why we don't, when a gentle breeze playfully rustled my skirt, reminding me how fun it was to dress up and take the time to do something out of our normal routine, like brunching.
"Yes," I agreed. "We should."
Brunch is served on Sundays, from 9 a.m. to 2 p.m. Club 1201 is located at 1201 E. 32nd Street. Click here to visit its website, and click here to view its Facebook page.
*The only photo in this post that I took was the one of the powdered sugar/beignet aftermath. Our server took the photo of me and my husband, and Travis (our family's photographer) took the remaining photos.
To read more about my adventures in the area, visit JoplinMOLife.com.