A few years ago, when I first heard a friend throw out the term "Third Thursday," I thought she was merely referring to a day that was near the weekend, and near the end of the month – kind of a weekend wannabe. I had no idea that she was talking about an actual organized event held in downtown Joplin.
But times have changed.
These days, most everyone I talk to in Joplin has either heard of – or been to – Third Thursday. This event's popularity has grown, along with its number of vendors and attendees.
But if you've never been to a Third Thursday and are wondering what all of the excitement is about, here's what you can expect.
There's art, music, dancing, food, shopping, giveaways, a car show, activities for kids – you name it. It's a day when the spotlight is on downtown Joplin, highlighting the unique businesses, restaurants and cultural amenities that make our city vibrant.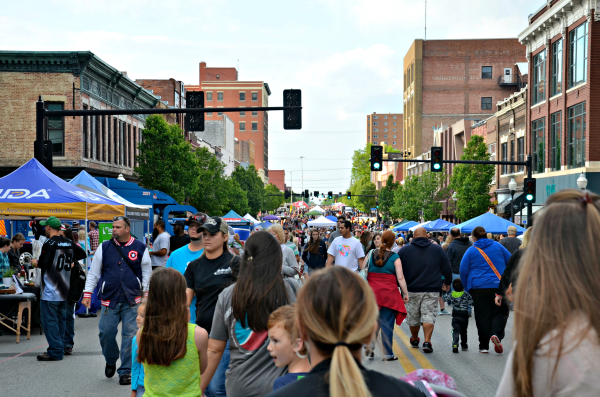 On the third Thursday of each month from March through October, Main Street is blocked off from car traffic and transforms into a pedestrian area between First and Seventh Streets, from 5:30 to 8:30 p.m. Performance stages, vendor tents and food trucks are set up on the street, and downtown buildings open their doors to feature art displays.
One thing that really impressed me on a recent Third Thursday was the multitude of food trucks and vendors that now participate in the event.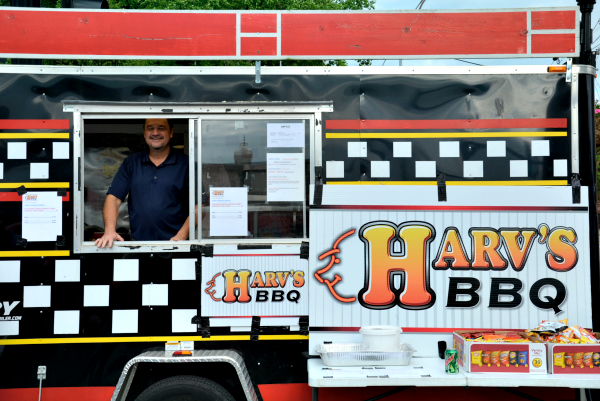 These vendors offered a wide range of food choices: King's Kettle Corn, AJ's Eatery (BBQ), Carmine's Woodfired Pizza, Sweet Emotion (hand-dipped chocolates and fruit), and SnowFlakes Shaved Ice.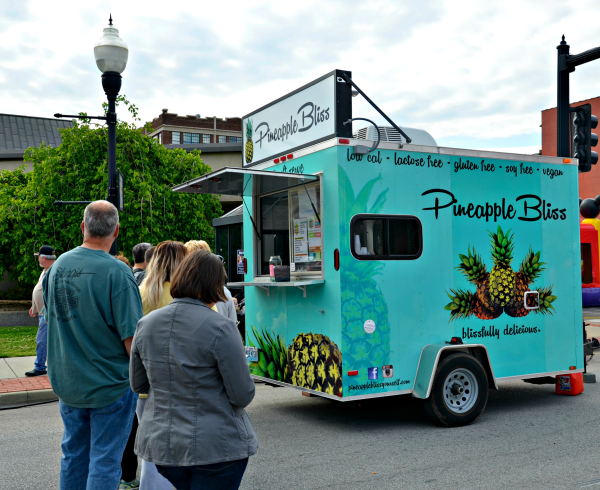 Tip: If the you see the Pineapple Bliss truck at Third Thursday, get in line immediately!
We initially walked past it when there was a handful of people anxiously anticipating their fruity soft serve treats, and we thought we'd come back when the line went down. Ha ha! Later on, the line was snaking halfway down the street.
In addition to the food trucks, downtown restaurants are open during Third Thursday, and several of them offer extended patio areas that spill out into the streets, like this one from the hip lounge and restaurant Infuxn Kitchen + Cocktails.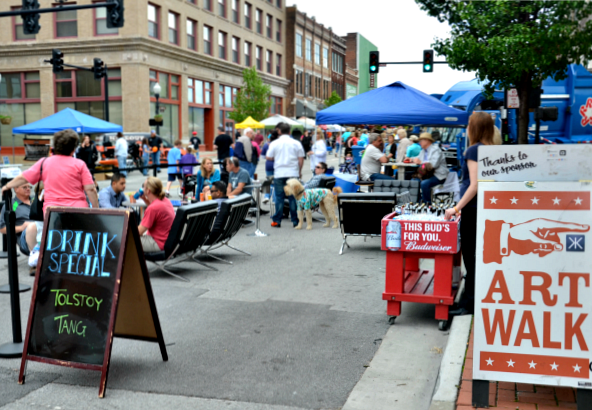 When we were done grazing through the food vendors, we walked around and checked out the artists on display. Here are some that caught my eye: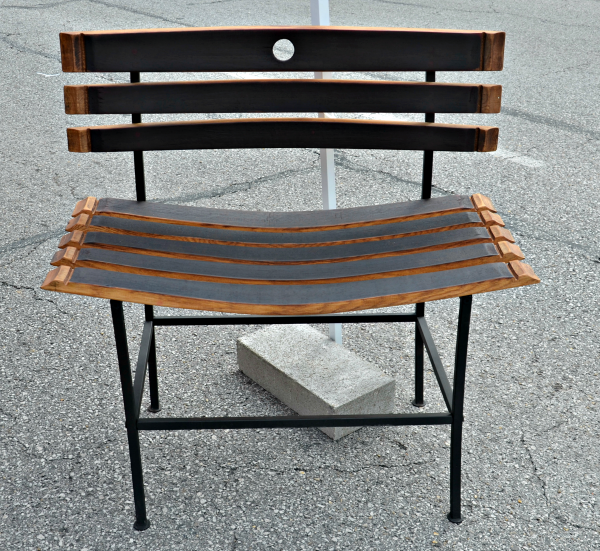 Barrel Werks' home furnishings are made from retired wine barrels.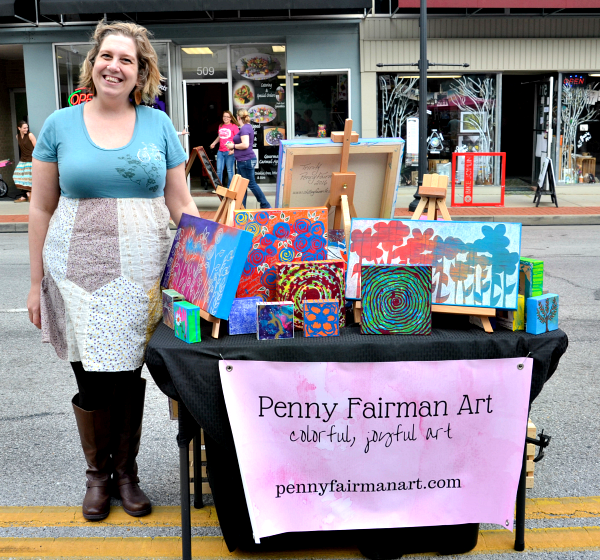 Penny Fairman Art (Penny is a Kansas City artist with family in the Joplin area)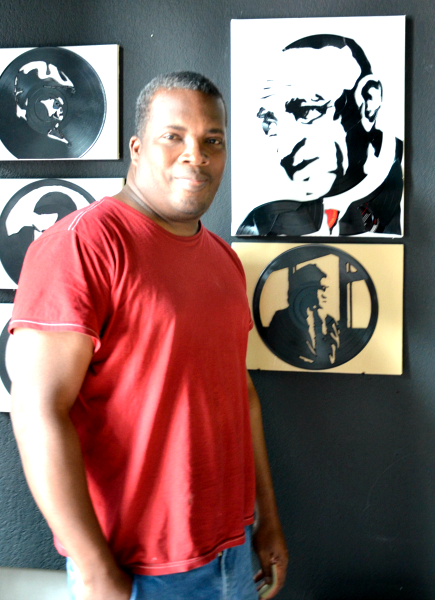 Corey Downing creates art from vinyl LPs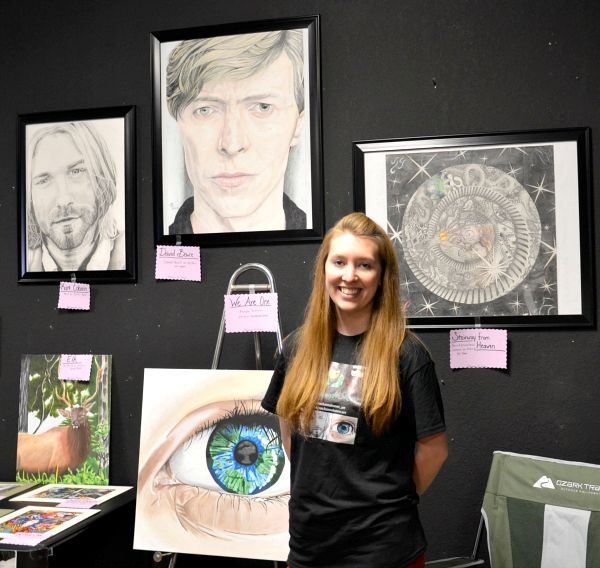 Joplin artist Hannah Snow
If seeing this artwork awakens the inner artist in you, there are several downtown studios open during Third Thursday to accommodate your burning desire, including Firehouse Pottery, Create N Sip Studios, and Local Color Art Gallery (a few blocks south on Main Street).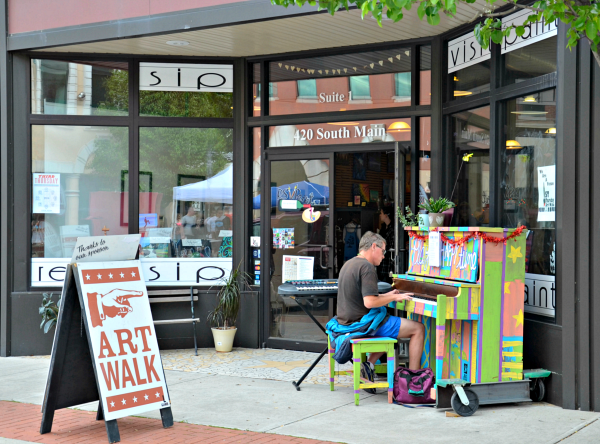 Art is not only something to appreciate visually; sometimes we drink and eat it. Some of the Third Thursday artisans offering ingestible art were:
Joplin Home Brew Club (crafting beer is an art, too)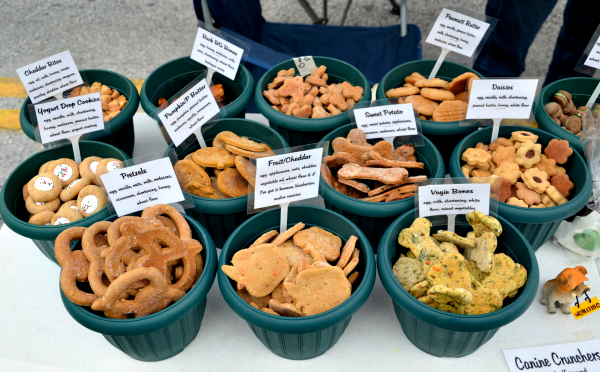 Dog treats from Granny's Goodies
I think Granny sold out of her dog treats within the first hour due to the incredibly high number of canine attendees that night. Hey, doesn't everyone – and every dog (on a leash, of course) – deserve to have fun night out?
Going to Third Thursday also gives me the chance to browse through my two favorite downtown boutiques, since they keep their doors open during the event:  Sophie and Blue Moon Boutique. For people who are into fitness, a downtown store worth visiting is Runaround Running & Lifestyle Co., which has an experienced and helpful staff that can help with your running/walking needs.
So with looking at artwork and browsing through stores, it sounds like kids would be bored stiff at Third Thursday, right? Wrong! There were bounce houses, interactive booths, a man making animals out of balloons, and the Art Feeds' bus which is there each month with a fun art project for the kids to do.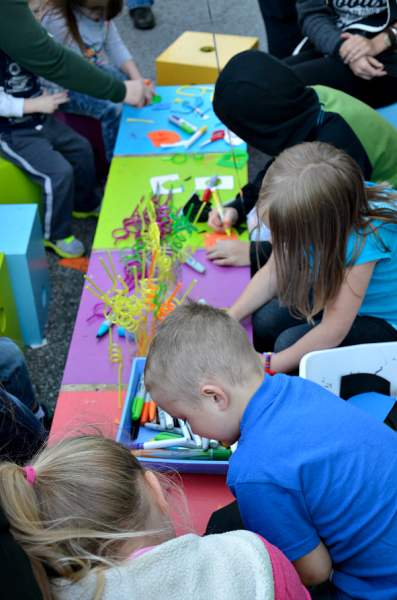 Another Third Thursday tradition is having your picture taken in 9Art Photography's themed photo booth. Can you guess what the theme was for our session?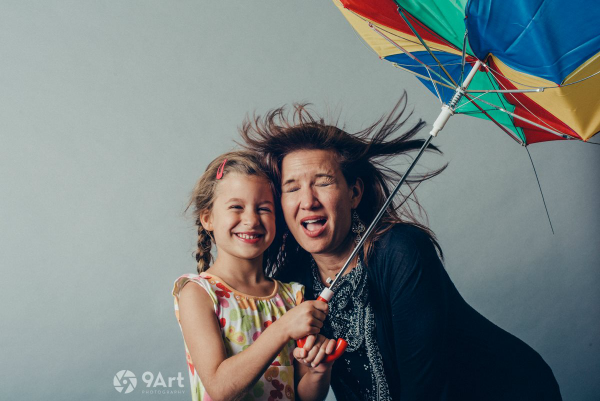 My facial expression might lead you to think that it's "I just bit into a sour lemon" day, but the theme was actually "Windy Day."
Another fun Third Thursday photo op is having your picture taken in this ginormous rocking chair in front of the former Joplin Public Library.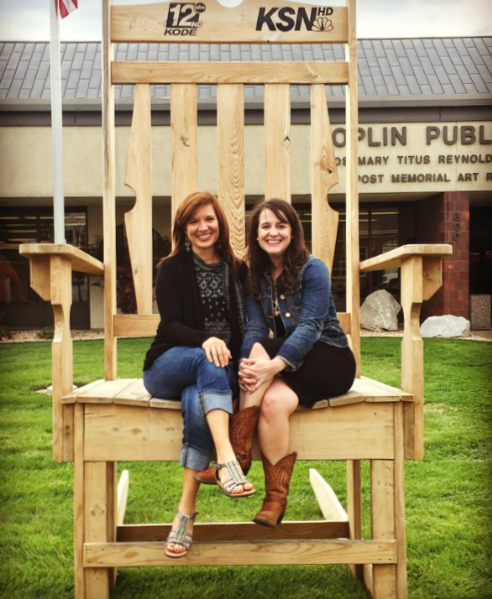 For vintage and muscle car buffs, there's a section near First Street that's reserved for displaying cars. It was also a big hit for people whose favorite color is orange.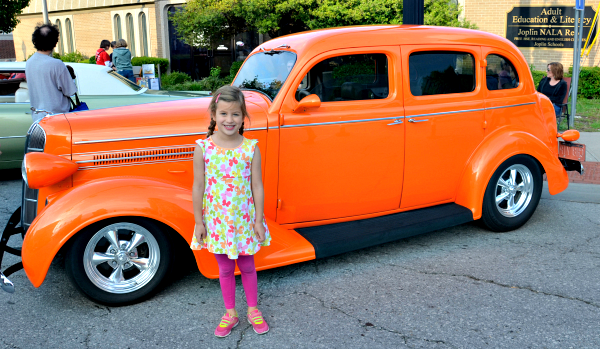 She loves orange!
While walking between exhibits, we passed several performance stages where local dancers and musicians were entertaining the crowd.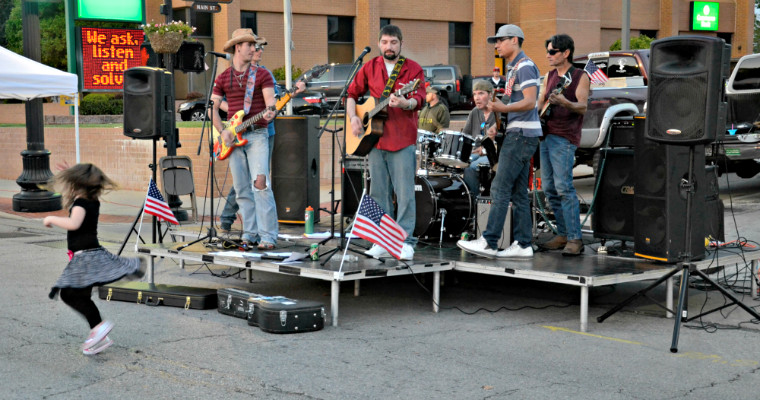 Sometimes the music just moves you…
We detoured off of Main Street to catch a performance of one of my favorite local singers, high-schooler Olivia Wu, who was playing at Joplin Avenue Coffee Company.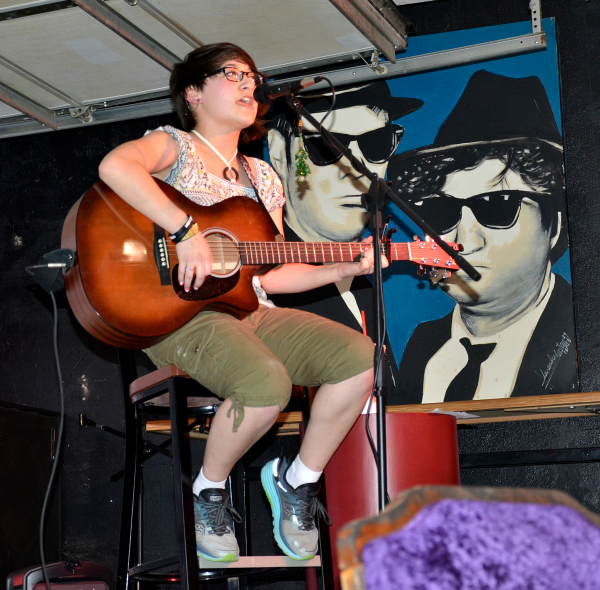 My middle daughter and I chilled out in the comfy coffee house chairs and listened to Olivia's mind-blowing voice while my husband took my youngest daughter to the bounce houses – again.
At Third Thursday, everybody's happy, and everybody wins.
Third Thursday events are organized by the Downtown Joplin Alliance. 
To read more about my adventures in the area, visit JoplinMOLife.com.