Grand Falls is a must-see for anyone visiting – or living in – Joplin.
This natural formation is beautiful, so be sure to bring your camera. Bring your family, too, because Grand Falls makes an outstanding background in photos.
But Grand Falls isn't just a pretty place to visit.
It's also the largest continuously running waterfall in Missouri.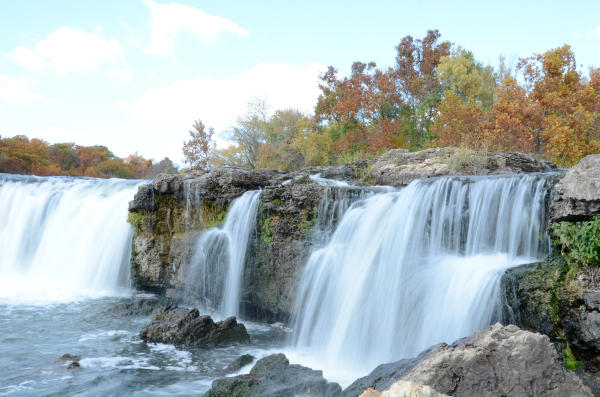 That's, right! The water in Shoal Creek plunges 12 feet to a rock ledge.
What? Only 12 feet? Clearly you won't need to crane your neck to see the top of the falls, but you are guaranteed a chance to see it flowing every time you visit because, well, that's how a continuously flowing waterfall works.
Above the falls there's a man-made dam. This was installed to form a reservoir that supplies water to Joplin residents.
The natural falls are created by a ledge of solid chert rock that measures 163 feet across, creating a Little Niagra Falls right here in our backyard.
There are outcroppings of chert next to the falls that fill with water and create pools that kids of all ages can splash in,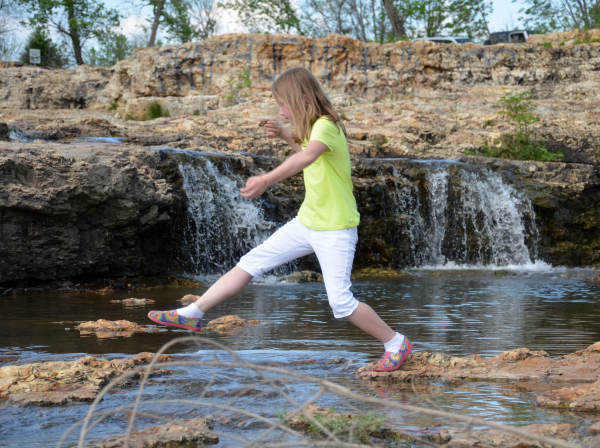 and explore to discover frogs and other types of life in the water.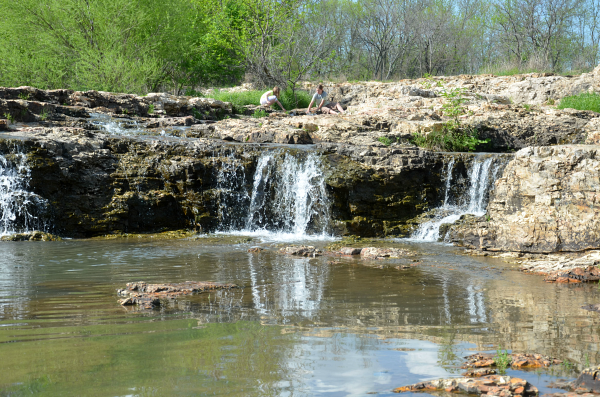 Grand Falls is accessible from Riverside Drive, and there's a small gravel lot where you can park your car. You can admire the falls from there, or you can walk the path from the parking lot down to the creek.
As you can see from all of the rock in the photos, the terrain is uneven, so be sure to wear appropriate shoes. If you plan on playing in the water (especially in the pools of water in between the rocks), I'd recommend a pair of rubber aqua socks because the rocks can be slippery.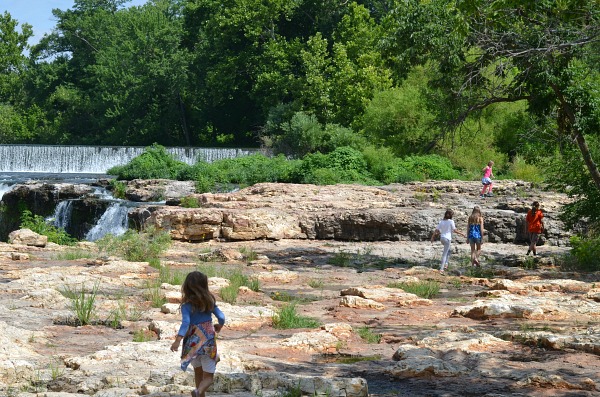 Or maybe you just want to find a dry rock to sit on so you can rest while listening to the peaceful flowing water. Visit the falls at sunrise and treat yourself to the sight of early morning mist drifting off the creek while you sip some coffee.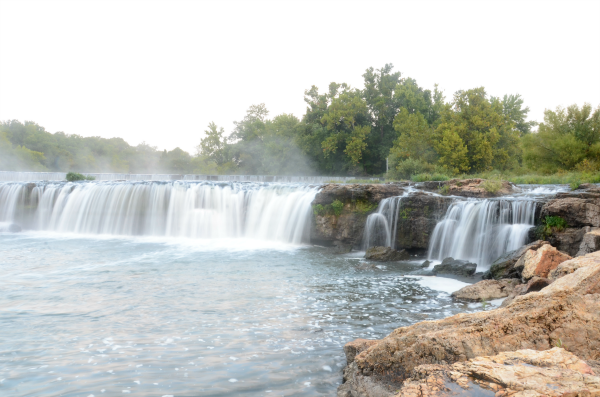 Ahh.
After visiting the falls (which is on the east side of the creek) our family usually stops at Inspiration Point and McClelland Park (which are both on the bluff on the west side of the creek).
Inspiration Point is located near the intersection of Glendale Road and McClelland Park Boulevard. There's a gravel overlook area where you can pull over and enjoy a breathtaking view of Shoal Creek.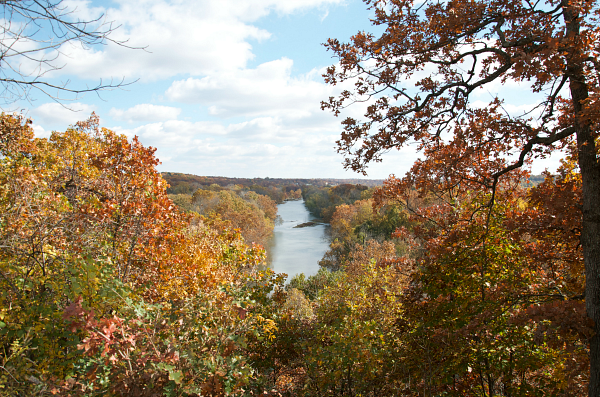 Next to Inspiration Point is McClelland Park. This park is situated on top of a hill, making it a prime spot for kite-flying in the spring. There are several areas with playground equipment, plus a disc golf course that's located in the south part of the park.
The many mature trees at McClelland make it a perfect place for a picnic, and there are several tables located throughout the park.
Here's a table near the bluff that overlooks Grand Falls to the east. We visited the park on that spectacular fall day take photos to use in our holiday card.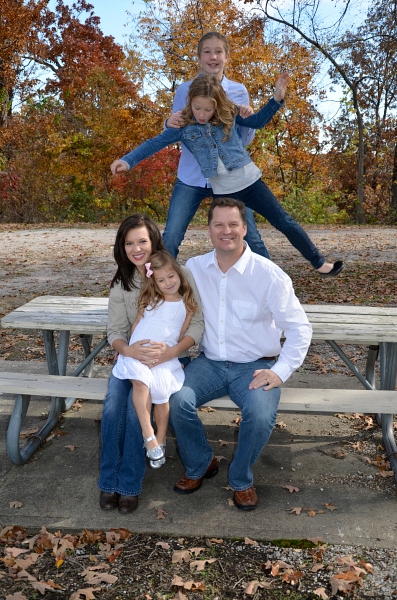 No, we didn't use this for our holiday photo and, no, she did not push her sister off the table (surprisingly).
So take a few minutes out of your day to stop at picturesque Grand Falls, where you can enjoy the unique natural surroundings and recharge your batteries.
If you have more time, swing by Inspiration Point, then have a picnic under the trees at McClelland Park.

Grand Falls is located at 5400 Riverside Drive, and McClelland Park is located at Maiden Lane and Shoal Creek (click here for its website and map).
Directions to Grand Falls: Off I-44, exit 6; south on Route 86 (Hearnes Blvd./South Main Street) two blocks; at the roundabout go west (right) on Glendale Road 1.5 miles; south (left) on Jackson across the low-water bridge; west (right) on Riverside Drive two miles; and Grand Falls is on the right.
Photos by Travis Smith; family photo by Lloyd Smith.
To read more about my adventures in the area, visit JoplinMOLife.com.