Wildcat Glades Conservation and Audubon Center is one of my favorite places in Joplin. It's a place where you can both learn about and experience the unique beauty of a chert glade in southwest Missouri.
The first stop on a trip to Wildcat Glades is the visitor's center; a unique building that reflects its desert surroundings (yes, desert, but more on that later).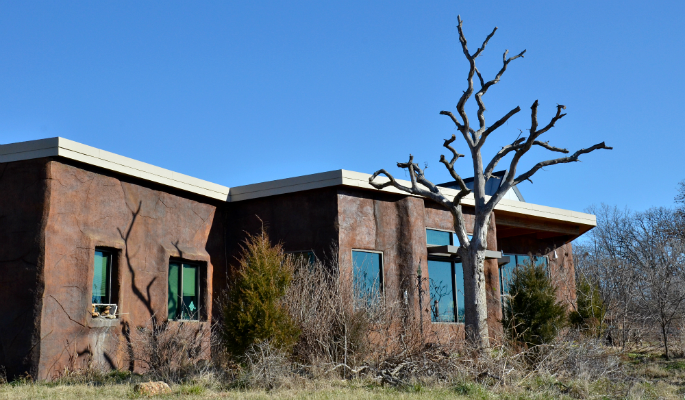 The center houses a hands-on learning area, classrooms and a gift shop that sells educational items and earth-friendly items like these earrings made from recycled cereal boxes.
The Missouri Department of Conservation has an office adjacent to the center, and it's a good place to pick up information about other Missouri parks.
In the middle of the center, visitors can view wildlife native to the area. There's a 1,300-gallon fish tank and Ozark stream, plus a chert glade terrarium complex that houses snakes and a tarantula.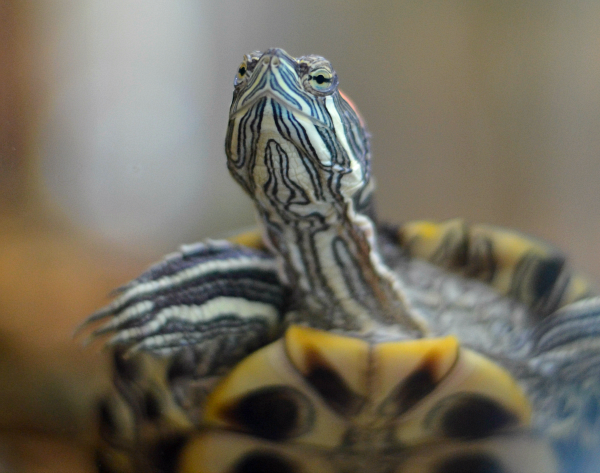 A bobcat and a coyote can be found lurking nearby (both are stuffed, thankfully).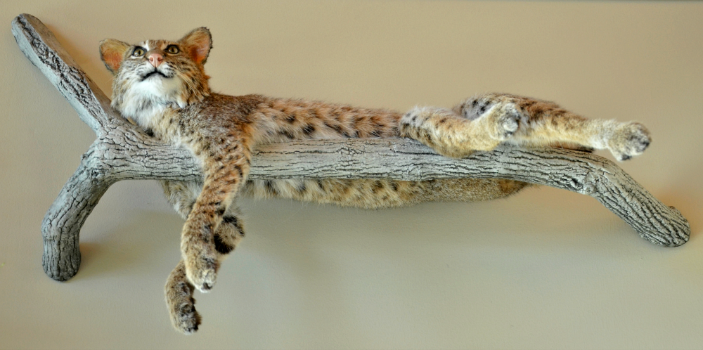 Stop and say hello to Willow, the female American kestrel (a type of small falcon). Adopted by the center in 2015, Willow is unable to fly, so she now lives safely indoors here at the center.
Isn't she pretty?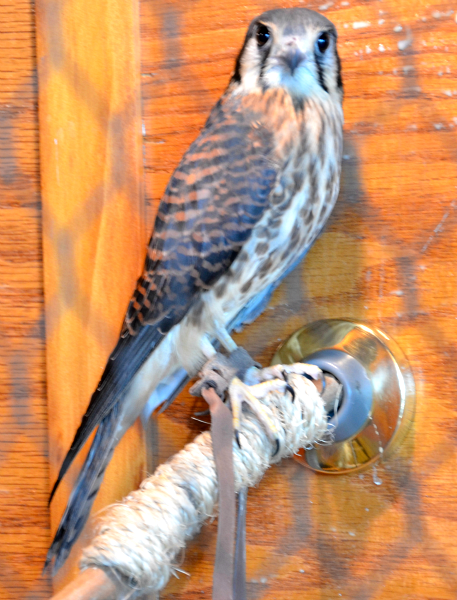 There's a discovery area where you can listen to different wildlife sounds (such as bird calls), as well as feel the textures of various animal pelts.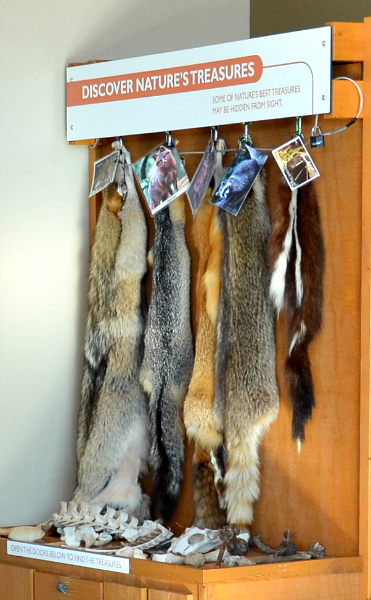 There are several classrooms in the building, and the center offers frequent programming for both children and adults, like "Nature Photography" and "Bird Banding" (for adults), and "Itsy Bitsy Spider" and "Talkin' Turkey" (for children).
Several large events are held at Wildcat Glades throughout the year, like the Shoal Creek Water Festival in summer, and the Christmas Bird Count in December.
Armed with knowledge of the area and its wildlife, you'll be ready to hit the trails and start exploring. Exit through the rear of the visitor center, and you'll find the hiking trail that begins on the chert glade.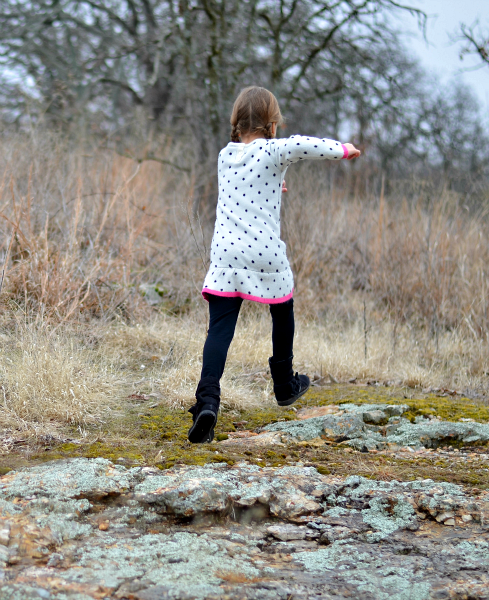 In Missouri the term "glade" is used to describe a place where underlying rock cuts through thin soil to develop its own unique ecosystem. At Wildcat Glades, the rock that cuts through the soil is chert, which is extremely rare and extremely hard, and it breaks sharply. Like flint, chert was used to make spears and arrows, and archaeologists have found many near Wildcat Park (there are some on display in the center).
The chert glade ecosystem is very dry, and plants that are native to arid climates can grow here (yes, that means cacti in Missouri!). These plants also attract wildlife native to arid climates, such as lizards and scorpions (eek!). I've personally encountered snakes twice while on the trail.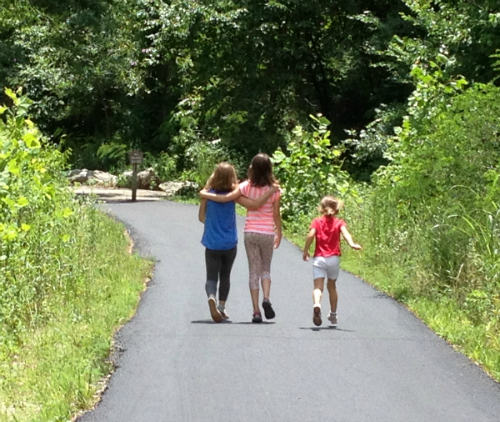 After crossing the glade, the trail enters the woods and begins following the banks of Shoal Creek. The change in scenery is dramatic: from a dry, sunny glade to a cool, shaded forest.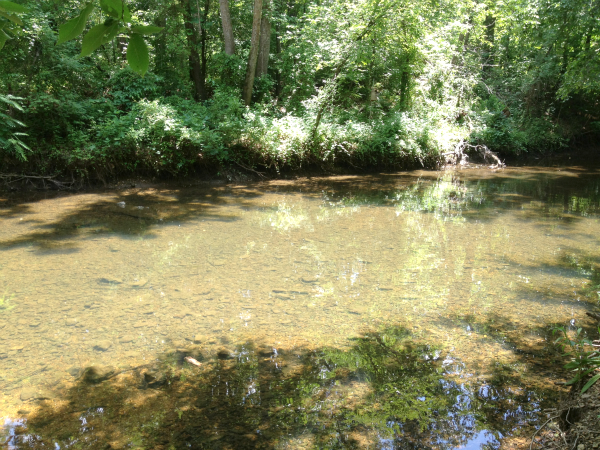 The view from the creek bank is breathtaking in places. Tall bluffs jut out from the sparkling water and demand admiration. If you are up for a challenge, there is a trail that follows the edge of the bluffs and offers a fantastic bird's eye view of the creek; if not, you can safely view the bluff from below.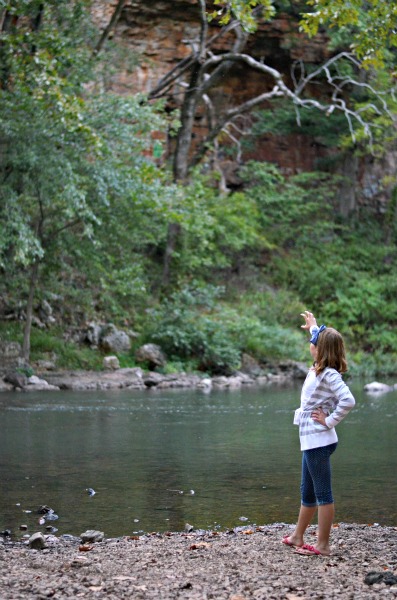 If you stay on the trail that leads to the Redings Mill bridge, you can peek into a cave (this is my kids' favorite trail, for that very reason). We've also been fortunate to have spotted a fox along this same trail.
There's so much to discover at the Wildcat Glades Conservation and Audubon Center; we find something new each time we go.

Wildcat Glades is located at 201 West Riviera Drive. Click here to visit its website and click here to view its Facebook page.
To read more about my adventures in the area, visit JoplinMOLife.com.